70 Years of Peace and Liberty in Aachen – Memories of Contemporary Witnesses
by Martin Borgmann
What was the situation like, 70 years ago when the war ended in Aachen, the first major German city? How can a post-war born imagine the unimaginable? What was the time of occupation by American soldiers like, after Hitler ordered the compulsory evacuation of the city? As a child, as a teenager, as a young adult, or as expectant mother?
It is true, time is running out for meeting those who have witnessed and suffered from all this, those who can and want to give first-hand accounts. Since there was no time to lose, we set out to search and we were lucky. The first intensive talks brought about further contacts and after a report in the local newspaper several contemporary witnesses got in touch with us. We were surprised by the response and focused on the reports about the dramatic events during the occupation and the evacuation of Aachen from mid-September to the surrender on October 21, 1944. Around 5000 citizens have disobeyed Hitler's order for various reasons. They remained in the abandoned and embattled city.
During several hours of intensive interviews, people told us about their unsettled everyday lives at that time, when the immediate concern was to survive. The very personal conversations have left a deep impression on the interviewer; for one thing, because of the dramatic events, but even more because of the attitudes of our interview partners: No bitterness, no accusation against that time but openness to talk about the experiences and the suffering after all these years and a deep and sincere gratitude to the liberators. You could feel that these people felt the need to talk about the bad and worst experiences and to share their history as heritage for future generations in the hope that it will never happen again.
Our sincere thanks to all interlocutors.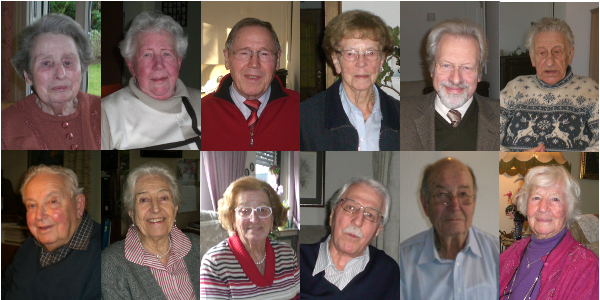 Contemporary witnesses
Born
The recollection…
Kunigunde Holtz
1915
My husband was drafted, but not yet as a soldier. He was probably too week and had to stay in a recovery camp, and I was on my own with everything. The child was born in December 1944 and by this time, when we waited for the Americans, I had to leave the apartment and look for a new home several times. Since here in Aachen-Steinebrück, we were in the front line of fire, in a no-man's-land so to speak: the Germans on one side, the Americans on the other and the bombs from above – for weeks and months. Horrible!
And then, sometime in September, the evacuation of the city was ordered. But as leading engineer in a strategic business, my father had always said: "No, when the time comes, we stay here". He was against the 'Brown Shirts' and probably he was on their 'black list', because he was often careless with critical statements or political jokes.
So, we were sitting in the bunker when it was said: 'Everybody out!' The SA was standing in front of the bunker everybody had to leave the city! When I saw that, I said to myself, 'No', you won't let your evacuation to somewhere happen! So, in the middle of this confusion I somehow went away. I was terrified. And I heard them: 'Halt or I'll shoot!' – But nothing. It was all in my head and in a panic, I had though up an excuse to be on the safe side. But nothing…! I just went on. This was the toughest decision for me and my child – but it was the right one.
Where to go? As a precaution I had rented an apartment near the border in the Eynatten (Belgium). I went there. Defenseless and completely alone I first crossed the German and then the American lines! And then I saw the first dead German soldier lying in the street at the Jahnplatz. A terrifying scene. He must have been there for days. As I said: no-man's-land!
But then I was fortunate again: an American jeep stopped, I was controlled, interrogated and then, they took me to Eynatten – safely. I stayed there as long as possible. The owner of a house in the neighborhood – a real guardian angel – gave me a stroller with children's clothing. You never knew when was to happen and where you would be then. Some days later, my family followed. My parents and my sister in law – they have been liberated by the Americans and temporarily evacuated to an old Belgian barrack in Hombourg.
As Aachen was liberated I could go back to the hospital at Lütticher Straße, 'Sanatorium' as it was called at that time. And after that thing got finally better. But later we had to change our residence several times with the small child that got seriously ill because of the general shortages – but that's another story…"
Hermann Offergeld
1926
"I witnessed and survived the end of war in Aachen. Actually, it was the end of fighting, because the war was not over yet. It was a turbulent time and many episodes could be told. Such as when I worked as anti-aircraft assistant in Aachen and at the Reich Labour Service where I volunteered for a short-time combat medic training. By chance and by instinct, this saved me from being sent to the front as many of my volunteer comrades. And how many of them did not survive…!
My parents, my brother and me, we did not want to leave Aachen when the evacuation was ordered. I still have the relevant documents of my mother. So we stayed, since we knew from prohibited sources that the Americans were in Roetgen by this time, and we said to ourselves that it would only last a few more days… We waited for the Americans and at the same time we were afraid of the German henchmen, of getting caught! But the Americans did not come. And thus, the Fuehrer's order to defend the city to the last bullet, together with the Americans' hesitation to take the city immediately, was the death of many people. Hence, the following weeks from mid-September to late October were again very turbulent.
But then the awaited end came – the surrender! It was no heroic act of the commanding colonel Gerhard Wilk. He had rather acted according to his orders to the bitter end – and let the poor boys die – up to his bunker where the war ended on October 21st, 1944 at 12.05 p.m.! They had given everything. Because only when everything was lost and when resistance was impossible, only then he surrendered. I do not consider this to be honorable, in no way!
After that we felt liberated! And finally, finally, we could sleep in peace. But Aachen was in ruins and deserted. People capitulated, they were demoralized, tired, almost apathetic and they have been taken to the barracks in Brand (now Lützow barracks) where they had to stay while being interrogated. I clearly remember those poor people left behind… not knowing what would happen to them, where they would go and why. I could escape at the last moment. No, I did not want to go with them. Thus, I hid away in the ruins.
In the reception camp they have been interrogated individually. The Americans and Eisenhower wanted to know who these Germans were, whether they all of them were Nazis. And I was lucky again: working as interpreter, my mother was one of the first civilian employees under the American management in the barrack in Brand. And the Americans were marvelous: they were friendly, open-minded and pragmatic; their mission was to help the people and to bring the city back to life. There was nothing, no electricity, no cars, hardly any water, much destruction and so on… And then, my mother told the commander that we had a bread factory and asked him whether my father would be allowed to check if everything was in order? Only once…? The commander agreed immediately, and beyond that, we could and should rebuild the factory as quickly as possible and take it into operation to make bread…! My father was not to be told twice. It did not take long to find skilled and willing workers. Together with the sons they rebuilt the factory in most adverse circumstances. Then the time had come – but we had no flour! And the Americans helped again by providing a cartload of flour! White flour! And we started to make bread… But how to distribute the bread in the city? Again, with the help of the Americans: They got a horse and a chariot! There was a solution even for the major obstacle.
Maybe the achievements of the Americans are little known; the comprehensive help for the city by the military administration, but also and first of all the personal meetings. They were very well prepared, especially the officers. Above all, they were always very kind. They provided for the first civil administration, for safety and for electricity, schools were reopened one by one and much else. There was so much help – on a small and large scale in everyday life.
Hunger! Not only physically, but hunger for freedom, for culture, for information, for truth, simply for life… The wonderful jazz – this music has previously been defamed as "negro music" – resounded from the jeeps into the streets. End of January 1945. I still see the knot of people at the newspaper publishing company in the Theaterstr. There was a special solidarity among the people – you knew who you could trust.

Katharina Emonts-Holley
1927
"My brother was a soldier. And we have been bombed since Easter '44. My parents were divorced and my mother was alone with her two children. She was a determined woman with her own opinions and getting her own way. She has demonstrated all that in many ways. I remember exactly. But there is one situation that I remember in particular: Just before the Americans captured Aachen, the city was to be evacuated in September 1944. My mother was not prepared to leave: 'We stay!' But how? Eventually, the evacuation was ordered. All civilians should go to the 'safe' back country. Without any exception. Trucks were waiting. Extra trains arrived for about 70 000 civilians. I was on a truck when my mother recognized a guard: her youngest brother, my uncle! 'Come off the truck, I will manage it' he called out to me. Then, an unguarded moment: 'run, run, run…!' We ran into the nearest smashed house, through the cellars. The houses were all connected – escape paths. And thus we could get off, unnoticed as we hoped. But there was still the dog, our dog. Of course, we did not leave it behind. Thus we tied up its snout to restrain it from barking. Minutes full of fear until we reached 'our' bunker in the Südstraße where we took shelter. Things happened very fast. Without hesitation. How did my uncle manage it? With all these things happening around me, I could not understand.
During the following weeks, we stayed in the bunker or in the cellar, as the case may be. We had to be calm in order not to fall into the hands of the German soldiers or the brown henchmen. We only had a small carbide lamp as a light and we cooked in the evening or at night using provisions from a grocery store in the neighborhood and from a bakery. They had permitted us to do so: 'If you need something, take it.' We could also exchange many things, especially with the nuns from a retirement home: milk for rice. A blessing.
Air-raid alarm. Attacks. Bombs made us leaving the bunker again and again. At that point, the bunker had become a kind of military hospital with severely injured German soldiers. We were three girls, two friends and me, who had a special task: together with the young beetle crushers we wrote "home letters", several of which were farewell notes. Awful! These guys were so young! I clearly remember one of them: 16 years, shot in the stomach. I still remember his face. A letter to his sister whom he missed so much. He died in the night. You cannot understand these things and you never forget them…
On October, 7th the Americans came and captured the bunker. In the night before, the Germans must have left the bunker in a hurry. They had gone. It was the first time I saw a black soldier, a big guy. But my fear was quickly forgotten, cigarettes and chocolate helped…, at least for the moment. Since, a short time later all civilians have been deported by huge American military trucks. Where to? What would happen to us? Fear again. Will they put us against the wall? No one of us spoke English. After an uncertain night in undersized housing and having barely slept, they took us to the camp Brand (Lützow barracks). And slowly, the fear faded.
After a short time, they called for us three girls. We did some secretarial work and in a little while, we became employees of the American civil administration. We made out passports, distributed mail to the soldiers, processed denazification files etc. We had a lot to do and enough to eat, thank God. We were allowed to eat at the American casino when the officers have had lunch. And I could provide food to my mother who was ill. I was so proud! Beyond that, we were privileged to go to town, we did not have to stay in the camp. In this way, my mother and me, we stayed in the cellar throughout the winter. Cold. Dark. Everything was damaged, rubble everywhere and hardly other people. But my mother even did the cooking under these circumstances – I cannot imagine how she managed. As I said: she had organizational talent, she was courageous and she had a will to survive.
Sometime in December, we got to know about the Rundstedt-offensive. Were the Germans – and with them the brown shirt – coming back? The fighting in the city was over and the Americans were not hostile, quite the contrary, they were kind and above all: humane. But there was a vague fear, we trembled, because the war around us was far from being over, to the contrary, this senseless dying in the Huertgen Forest – awful! And you did not know what would happen until it was over.
But then it was over! Finally. This makes me remember a very special experience: At one point, there were fruits in the greengrocery and my mother bought me a grape! Of course, I wanted to share it. But she said: 'No, this is for you now!'
Maria Peltz
1927
"So many things happened in that time. It is impossible to tell the whole story. I do not even know how to tell you in a way that you will believe it." We ought to be evacuated on September 13th, 1944. We had been on the road for a while with our horse, the chariot and all our belongings, when we heard: 'Attention please, this is an important message: The evacuation is stopped – please go back to your homes! Order by Graf Schwerin.' In the evening, when we came back to our farm in Laurensberg after hours, we saw that our two pigs had been stolen and slaughtered by the German soldiers who were still there!
They had nothing either. My mother had passed away on September 1st, 1944 after a long illness. The funeral, I will never forget, has been interrupted three times because of air alerts. From then on, her six children were orphaned, because our father had come to a sudden death in September 1939. The three children of the first marriage were adult and thus, me – as the youngest child – and my two brothers were left on our own at the family farm, just at the time when the dire fighting around Aachen began. My brothers had to go to war in the first time, but then they came back. But more on this later. Then there were two forced laborers from Yugoslavia, a Serbian and a Bulgarian. The older one followed me all the time. I was young, I felt defenseless and I was shy. Horrible.
More and more people came from the neighborhood and from Aachen seeking shelter at our place. After all, we were 19 persons staying in the cellar almost all the time. They were to be catered for, which was only possible in stages, of course. We helped each other and we had enough to eat thanks to the farm and the animals. If only there would not have been this fear of the bombs, the shells and primarily the SA that wanted the evacuation until the end. Luck was needed, but also courage. Once, they came back to clear us out or to take away one of the boys. A staff sergeant helped by personating our uncle: 'This place will not be evacuated!' he said firmly and strikingly. And it was not. The Wehrmacht and the SA were like fire and water… They had arrested my brother once before, but he was working in reserved occupations. Another uncle had arranged it, and my brother was released thanks to a courageously intervening neighbor. What times they were!
We had anything we needed, but it was not easy and, what is more, dangerous to cater for 19 people. The constant American air attacks and shelling from the Aachen forest. We heard the bangs at every move. We had to slaughter a cow because it was injured by shrapnel.
And then, there was this horrible story with my best friend, Inge, 18 years old! She has been hit by shrapnel in broad daylight, while picking plums. I remember her leaving the house and going to the meadow with a beetle crusher. He shook the tree, she picked up the plums and suddenly a bomb hit – and she did not get up again. A splinter hit her head. She died two days later. After that, you even dare less going in the fields, but we had to feed the animals, to milk the cows and to harvest, of course. After all we wanted to eat. We did all these things with fear and caution and we took a white flag with us each time. That helped – thank God!
Inge's mother and me, we saw her once again. In circumstances which are hard to imagine nowadays. In constant danger, we made it to the military hospital in Jülich where we found her. We had to bury her immediately. We were not able to think properly any longer. For the second time within two weeks, I had to inter a close person. When the war was over, we came back to look for the graveside. We did not recognize the town. Anything had been destroyed. Only months before, there was no sign of war. But at least, we found the graveside, thank God.
Life remained dangerous in other ways as well. We were exhausted and did not sleep enough. We wished for sleeping through the night, once only! In a real bed! That was what we desired. Not being in the close cellar with so many people. And there was still my mother's sickbed. Once, the desire was stronger than the fear. So, my friend Martha and me, we went to sleep on the ground floor. It was wonderful! We have not really been spoiled in that time. But then, in the middle of the night, I woke up and called my friend: 'We have to go out of here, they are shooting again.' We went to the cellar, unwilling and half asleep. We had not yet arrived downstairs, when a shell hit the house. Direct hit – exactly at the place where the bed had been – we would not have survived that. God preserved us. He also did when my half-sister's child that was born safe and sound some days later at our place. A midwife was among the 'expatriates'. She had helped. It was a mercy!
At some point, it was over and it was said: 'It is over, Aachen has been captured'. I do not remember the exact date, but that was not important, because finally the shelling, the air-raid alarms and therewith the bombing of Aachen, all that came to an end. We were so relieved! We were liberated and we had survived! Nothing else mattered.
When the Americans came, one thing happened, though. A black American soldier with a gun was in our kitchen – we had never seen a black person, and people had told us many things about 'Negros', they would be cannibals and so forth… That was too much for me. I ran away in a panic. That made the situation even worse. 'Stay, he will not fire' I heard my aunt shouting 'he just wants to see our passports'… That is what happened. Otherwise, I could not tell you about that today.
Nowadays, one can chuckle about it.

Marianne Schmetz
1927
"My father told me: Write it all down, you are good at it – and today, I am glad to have this diary from the time of the occupation time. My parents, my three siblings, my uncle's family with five children and three grandparents in all, we lived in my parent's house at the factory site, at some distance from the residential area Aachen-Forst (now Philipsstraße) – in the middle of the combat zone. A cousin had got an induction order – what should we do? My uncle and my father said: 'the boy stays here; he will not be used as cannon-fodder'. Of course, it was dangerous for him and for all of us! But my father trusted in us kids and always said: 'We have to survive this war and when the Americans come, we will be doing better here than anywhere else.' That is what happened then.
Constant bombardments – we only lived in the cellar, more or less, and we listened to the radio – enemy radio channels – always having a globe with us to keep ourselves informed about the course of the war. During the days, we cleared away the rubble as much as possible and we patched the damages caused by the bombardments at night. The Americans came closer and closer and so did the ground fighting. And we were in the middle of the no-man's-land. Wehrmacht artillery fire on the one side and the Americans from the other. Even though we got used to, there was danger at any time.
The Americans were there yet – we could see them in their positions. Once – we were petrified with horror – a black American soldier looked through a hatch straight into our air-raid shelter where we stayed most of the time. Fright and fear! I shouted: 'Do not shoot. I'm alone!' Minutes of anxiety… But we have not been harmed – whoosh, and he was gone.
Unfortunately, that was not all. Terrible things happened: Three Americans came to search the house for German soldiers. They were most friendly and polite. The commanding officer, a young, handsome, adorable boy… Yes, I was young! And then the unthinkable: they combed through the house and the factory… but they did not find anything, of course. The situation eased. They stayed for a while to discuss the situation. The officer stood at the window, talked to his fellow, took off his helmet and lighted a cigarette. Our eyes glued to his face. Then a shot was fired…, he toppled and died instantly. Incredible! Just in front of us. We have been shocked! What would happen now? Gunfight? Retaliation against us? None of this. When the situation seemed safe, the comrades recovered the body. They kept friendly and polite, something which was beyond our comprehension. One of them even thanked 'the lady' as they called my mother. They acted so correctly – we had got used to each other, we showed mutual respect and we had even nearly made friends with each other. We didn't feel threatened by the Americans at any time, to the contrary!
One more occurrence from these times… It might have had devastating consequences: a German soldier penetrated into our house, ran upstairs and fired a volley from our windows to the American positions. Utter horror on our part. Heaven helped us, if the attacked would have answered in the same way. They did not. Two defenseless families were seriously threatened.
It also happened that you came under yourself: One day I was sitting in the tram, when an English low-flying aircraft started to fire at it. People rushed out in a terrible panic, getting into safety. It was a lucky escape! Back home safely. My mother was so relieved each time.
One day, heating and electricity failed. We used candles. Then water failed as well. Fortunately, an old neighbor had advised us to stock water: tubs, kettles, buckets were filled… They have saved our lives. So did the help of other people. I will never forget: an old man from the neighborhood always brought our bread – he dared to come every day!
I did not experience the end of the battles and the actual surrender directly. We have been a good way off the city. Therefore, the situation remained fuzzy for a while. But the moment when it all became clear was the liberation for us. Up to the present day – although many people might not understand – I am infinitely grateful to the American soldiers for having liberated us from dictatorship and for helping us with the reconstruction!

Martin Ratajczak
1927
"I was 17 years old when I got a call-up order by the Wehrmacht, but I didn't go… We wanted to stay here by all means… If they had caught me, they would have put me up against the wall… But first things first. I remember exactly, it was a Sunday in September, the Americans had almost reached Aachen and everybody was worried. That was when Heinrich Himmler stood at the stairs of the Frankenberg bunker and announced to an audience of 200 people: 'The city will not be evacuated!' Two days later, the evacuation started. Fuehrer's order. We had hoped that the Americans came sooner, but they didn't come – and thus I had to hide, because, I had dodged the State Labor Service as well, thanks to my mother. So I stayed on the Ronheider Weg in my shack with the secret door in the attic. It was not that easy, because the line of battle ran right here. From one site, the Americans fired at the city. The Germans responded from the opposite direction as long as they could.
Some strange things happened: From my hiding place, I could see members of the crack unit SS-panzer [sic!] division 'Windhund'. They shoot on preserving jars out of boredom… Later, when it became too dangerous, I tried to get into safety in the Frankenberg bunker together with my girlfriend and her parents. But by this time, watch dogs conducted inspections, German military police, at night. No electricity, no light, only candles; and then I was lucky once again. Inspection. But my mother had made my draft card disappear so that I was not a soldier. Other people came to my defense and said to the henchmen: 'the boy is only 17 years old'… Tcha, everything went well after all. The next day, the Americans were there. The German soldiers have been arrested. I still remember how they have been taken away, their hands over their heads… This happened prior to the surrender of the city. Street by street, house by house, they approached the center. And all of us had to walk through the Kaiser-Allee (now: Oppenhoffallee) to the Lützow barracks. We had taken all the belongings that we were able to carry. Houses were on fire to the left and right of the streets. There was still shelling when we arrived. The Germans shelled from the Kaninsberg – some civilians died.
Then, when more and more people came, the camp was nearly filled to capacity. Together with other camp residents, me and my girlfriend have been brought to old Belgian barracks in Hombourg. We didn't know what would happen. There was little to eat, dry bread, thin soup… And then all of us have been interrogated. Seeing me with my boots and without documents, they must have thought I was making a getaway, possibly even a Nazi. But then I was lucky again, because it was said that people living in the southern quarter of the city were released. The city had been under American control by then. The way of dealing with these first American troops was usually very relaxed. For instance, after my release an American took me to the frontier in his jeep. That was what the situation was like.
The city lay in ruins. But life came back. The first newspaper was published. Curiously enough, it was printed with the same machine as was the Nazi paper before. They had saved it from the rubble. Everything went slowly back to normal. Until December, until the 'Battle of the Bulge'. I had made a radio so that I could hear news and Wehrmacht reports via the station in Laurensberg. When we heard about the 'Battle of the Bulge'. Fear, horrible fear came back. It starts all over again. But everything turned out well for us and for Aachen. Not for the soldiers, because tens of thousands lost their lives on both sides.
Freedom has a high price and it doesn't fall out of the sky. We were glad and grateful that it was all over, finally. "
Dr. Heinz-Joseph Oellers
1928
"The violin has saved my life. We were part of the Luftwaffe auxiliary personnel, we wore uniforms and steel helmets, so we were actually soldiers, but then again, we were not. Since we were but children. This was 1944; the city had greatly suffered from severe bombardments by the Anglo-American air forces, particularly during the major offensives on July 14th, 1943 and even more on April, 11th, 1944. By this time, 15-17-year-old students from secondary schools have been conscripted as Luftwaffe auxiliary personnel. Together with my comrades, we were assigned to the antiaircraft (Flak) battery at Beverau in the south of the city. It was not an easy time, especially because of the harassments by the noncommissioned officers. Needless to say that the high school students were thorns in their sides. The so-called Berlin-decree was my luck. It said that students making music at school were not to be conscripted as Luftwaffe auxiliary personnel. My music teacher, who was also the director of the school orchestra, referred to this decree: 'We need Oellers, it sounds strange without the violin.' Under the officer's protest, I have finally been released and could take off the uniform. I was very lucky, especially considering that exactly this antiaircraft (Flak) battery has been hit directly. As I said: the violin has saved my life.
Me and my father stayed despite the evacuation order, because he said: 'it will be over in a few days.' Since we knew that the Americans were in the Aachen Forest and the capture of the city was imminent. It was a major error as we would see later. According to my father, my mother and my siblings should get into safety. They have been evacuated and scattered to the four winds. But it turned out well after the war, when we all met again. In 1933 my father was the principal of the elementary school 'Hanbruch' when the 'brown' in power fired him. He had refused to join the NSDAP.
After all, he was not alone estimating that the war was to be over soon. It was obviously the opinion of all persons in charge, of the administration, the military leadership and the soldiers. Since they were all gone by this time! There was practically no leadership in Aachen! So we had to hide. We did so in an Elisabethinen convent on Preusweg near our apartment on Hasselholzerweg. Police barracks had been at this place before the Nazis have expelled them. The place was abandoned; as I said, the top brass had disappeared. It was a lucky chance for us, because the nuns and the police had got in ample supplies. It had been a longtime we had seen such provisions of food. I found water in a rainwater storage basin. 20 other civilians were there with us. They refused to leave as well. One of them was a butcher, which turned out to be very helpful, because there were many straying animals. A cow had been mortally injured by shrapnel. The butcher cut it up. Now we had fresh meat every day. We were doing well; better than we had been for a long time. We were very well supplied and we found shelter from the constant military danger in the so-called tunnel. The police had built it up in the spacious garden by way of precaution for its own protection. We were sheltered by supporting beams and we had beds, blankets and everything we needed to survive. But the situation got more and more critical, because precision bombing hit the convent complex as well as our house. During an inspection, we found a blind shell at the top floor. Despite caution, I pulled it out with bare hands and I buried it in the garden. Sheer madness!
Where were the Americans staying? They were still not coming. Then, one evening, an American patrol came to warn us. We should make off immediately! Later, German soldiers warned us by the same token: 'You really have to get off!' After a while, me and my father fled on our own with the bicycles. We wanted to go up to Jülich, then to Siegburg, where we imagined our family to be. But my father had bad luck; he fell off his bicycle in the darkness and hurt. It happened in the middle of the night, the roads were in bad repair and partly blocked with obstacles by the soldiers. You couldn't see them. One of them was my father's undoing. The injury was not the worst thing, but the bicycle was broken. 'Ride on, We will meet in Jülich. I did so, but due to the chaotic, though finally lucky conditions, it didn't work out. We only met much later in Siegburg. What a relief!
There, we kept afloat, because my parents worked as teachers. They were paid in kind. Education for food, so to speak. That was particularly important in the cold winter of 1944/45. We heard of the liberation of Aachen on the radio. Of course, we wanted to go back immediately, but we were not allowed yet. It was only in May 1945, that we could go back to our beloved hometown. The farmers were the first to go back to till the fields and to look after the animals in order to ensure that the population would have enough to eat. Therefore, my father pretended to be a farmer. And it was true, at least in the broadest sense, because we had a kitchen garden, if only a small one. In this way, we were one of the first families being allowed to go back to the city. There were barely trains and if there were, they had no windows, no heating and no timetables. It was hazardous. I took off with my bicycle – 'in six hours from Siegburg to Aachen' – as my mother wrote in her memoirs. The city looked terrible. You know the pictures. Our house was still there, but it was badly affected by water damages and strangers living there. Most of the furnishings were missing; cupboards, tables, chairs and a hall clock. Another story. First, we were puzzled as to why these things were missing, but many people had simply taken them. It was often said: 'The Belgians did it'. It was certainly true in many cases. Since, as members of the occupying forces, they acted like victors. They made us feel their power at any opportunity. But in this case, it was different. Our pastor in 'Heilig Geist' (Church of the Holy Spirit) has seen and recognized our furniture in another apartment – not in Belgium (!) – but in the apartment of an Aachen family of the same parish. With the support of an auxiliary policeman, we reclaimed the furniture – and it is still here today!
Well, we had to keep afloat then. It was about food and drink in the first place. We foraged at the farms. Many things have been exchanged and we became self-sufficient. Each square centimeter was planted with vegetables. We literally became farmers, if only peasant farmers.
The Americans were friendly, helpful, relaxed, pragmatic and very fond of children, of course. Especially the black. The Englishmen were extremely decent, no vengeance, no harassment. When the Belgians came, it was different. They felt and acted like the victors and made us feel it at any moment and for a long time. And then there was this bicycle story: I had to show my passport, but I didn't have it with me. The Belgian soldier held my bicycle in pledge. It was of value by that time. I came back after a few minutes, but I couldn't see either the soldier or my bicycle. Both had gone!"

Hanne Lore Bethge
1929
By the End of 1944, me and my little brother were practically orphans. In 1943, my mother had passed away after a long illness and my father had to join the Volkssturm (Germany's last ditch defense in WW II). We lived in the south of Aachen and were left to a stranger, Miss Backhaus. I will never forget, because she was Herbert von Karajan's housekeeper before. Since she didn't feel comfortable at our place, in such a mundane home with two children, Miss Pennings alias aunt Käthchen was to come – a real blessing as things turned out.
As the fighting became more ferocious and the Americans were yet in Liège, rumors came up that the city would be completely evacuated. That is why aunt Käthchen took us to temporary quarters in Eynatten by Tram. Many people from Aachen had rented rooms in the then German East Belgium. In that way, they had some peaceful nights at least. Aachen was under constant fire – not one night without air raid alarms. Then we had to go to the cellars, or later, to the bunkers…
When the evacuation was effectively ordered by Mid-September, we stayed – to our luck. Thanks to the farm, we had enough to eat. The landlady was alone with her children, her husband was in the Wehrmacht, our father agreed and we were safe here, or so we thought. When the German defense collapsed, we saw the German troops retreating in a mad rush – chaos. What a pitiable sight: the flying beetle crushers, miserable guys, hollow-cheeked, exhausted, hungry, demoralized… But there were some SS-officers as well. They supervised the evacuation. Aunt Käthchen was seized in the city and as she said that the evacuation from the front wouldn't make sense to her, they threatened her with death: 'You know that we can put you up against the wall for that?!' But it didn't happen, thank God!
And then, the Americans came. Finally! How relieved we were! Though it was far from being over. Until the surrender of Aachen, we lived in a no-man's-land. The Americans fired at the town from this place so that our beds were shaking. Thank god the German soldiers didn't return the fire. The city was no longer defended practically.
Provisions became more and more difficult. And we were lucky. We were allowed to go to our apartment in the south of Aachen. This part of the city was captured by the Americans yet. There was an eerie silence, the city was abandoned, dead cows were lying on the meadows, the apartment was a mess, several things had been stolen. The Americans had had their observation post with a twin-telescope in the living-room looking out on the city. Nobody seemed to be there. Then suddenly, a moment of shock! I heard something in the garden and I saw two people, probably two burglarizing, deserted beetle crushers. I took fright and I still had the presence of mind to start speaking loudly – as if I had not been alone. The danger was past soon. The unbidden guests had gone. Lucky me!
With the few belongings we had, we went back to our 'exile' in Belgium. We got clear about the difficult situation: there was a lack of everything, hardly anything to buy, only little food, no electricity, no heating, water only from the cistern… But what was all this compared to a feeling of safety? That was how we felt, when the Americans had finally captured Aachen by the End of October.
Christmas 1944: candle light, open oven door, meager meal, presents? Our thoughts were with our father, with the relatives and friends. Where are they? How are they doing? Though: the feelings are indescribable and unforgettable. Then, in that night, we suddenly heard loud engine noises. It was a threatening sound. What was that? Military? The German Wehrmacht was back. The 'Battle of the Bulge' had begun. An agony of fear: it was not over yet. Hours and days full of fear began, because nobody knew what would happen if the German Wehrmacht was able to gain a foothold. People would die needlessly, that was for sure, because no one could believe in a victory by Hitler's army any longer.
When the war was over and the Belgians took over the administration again, the Germans had to wear yellow armlets and to go to the community administration each day – it was probably a kind of a reprisal for the pogrom. But what is that compared to the turmoil of war that I had witnessed at the age of 16. I was glad of being alive.
At least until September 1945, when the Belgians deported me and my brother – as citizens of the German Reich – back to Germany. We were by ourselves again, because aunt Käthchen, having a Belgian passport, had to stay or was allowed to. What was to become of us now? It was almost a miracle that aunt Käthchen could care for us after all. She provided us with food, with confidence and with some bureaucratic tricks: in that way, she managed to smuggle my brother back to her! I fended for myself to get to relatives living in the Eifel, in Hellenthal or 'Hellthal', as we used to say, because there were ruins and damaged roads everywhere. These were the result of many fighting and repeated 'changes of owners'. I stayed there for 2 ½ years. The war was over, but the times afterwards were very hard for everybody. There was a lack of everything: food, clothes, water, heating… and we lived through severe winters, but we made shifts and got ingenious. My father was released from war imprisonment and we were still alive and little by little, things got better.

Walter Noppeney
1929
The situation was worst in the former Belgian military caserne in Hombourg. I saw fire in Aachen from Geilenkirchen where I stayed with relatives for some days. When I came back, the houses on the Jülicher Str. were still burning. My only thought was: 'You will not find one of your family members at home anymore.' The first wave of evacuation had taken place in summer 1944 when all secondary schools have been evacuated. Most of them were seconded a great way off, in the Sudetenland for example. But my parents were against. They didn't want their family with their only son to be split up. Therefore, they pulled several strings to make sure that I could go to a school in Eschweiler.
You required a school place to be allowed to stay. And it worked out. But I never arrived at that school; at least I was rarely on time, since there were constant air attacks on the light railway. Then you had to go off, which was pretty dangerous, and the train was delayed. When we finally arrived, class was regularly over. Anyway, I managed to avoid NS-organizations at most. I never wore a uniform. The Volksjugend (section of the Hitler Youth for boys aged 10 to 14) was compulsory, but with the aid of my mother, I got out of joining the Hitlerjugend and I was too young for military service whether it be as Luftwaffe auxiliary personnel or beetle crusher. However, it was not that simple to dodge and sometimes, it was a close shave. For instance, when the police was after me and came into our house. A 'golden pheasant' (a decorated Nazi functionary) from the neighborhood had denounced me to the authorities, because I had dodged the 'dig service'. I still hear the heavy boots on the cellar steps and my mother's quick-witted reply when she was asked where I was: 'He's at school in Eschweiler.' I had just hid behind the door, not even one step from the uniformed. It happened right next to me. They left empty-handed. Later, I got clear about the danger my mother had put us in. It must have been motherly love.
The front came closer and closer and with that, the battles for the city got worse. So did the situation of the civilians in the city. We had not expected the movement order, though, because only some days earlier, Hermann Göring had announced that the city would by no means be evacuated. After all, the situation was quite ambivalent for me and my parents. On the one hand, as convinced and practicing Catholics, we were traditionally rather critical of the regime; however, as decorated ex-soldier of the First World War, my father had always been dutiful and loyal to the state. Furthermore, as leader of transportation, he was officially instructed to organize the evacuation. So we had no option but to leave. Anything was prepared. We put the most necessary belongings on the converted bicycle trailer and went off. Or we ought to go off. We were just on the Jülicher Str. when we came under American fire from the Aachen Forest. We could only take shelter in the bunker on Scheibentstr., where we stayed for a while, because it was impossible to think of getting away. When we heard that the evacuation was stopped, the decision was clear to us: 'We stay now! Come fire or high water.'
But that's easy to say. We neither could nor wanted we to stay in the bunker. After we had hunkered down in a safe and spacious air raid shelter together with some neighbors, the whole situation became more and more threatening: no electricity, no water, no gas, we were running out of supplies. Gnawing hunger. Especially for a boy like I was. You had to shift for yourself, no matter how. Now and then, we heard of food storages Edeka, Nagel & Hofbauer etc. And we went there boldly – in retrospect. My mother with me and frequently with a younger neighborhood boy, Hänschen. He died a while later. A direct hit to an air raid shelter took his life.
We were in need of anything and we took as much as we were able to carry – also things to exchange. Once, it was pitch-dark in the building, we felt our way and then it happened. A whole shelf with liquors and spirits fell over. Our hearts sank to our boots. A pile of shards, alcohol all over the floor so that you almost got drunken by mere breathing. From a present day perspective, you would say it was pilferage, nothing else. And it was dangerous, because according to martial law, pilferage was punishable with the maximum penalty. We knew it, and yet…
Although it became more and more dangerous outside, me and my mother had to leave the shelter again and again. Suddenly, there was a huge tank in our road. German or American? We realized that it was a forward deployed patrol. It pulled back after a short while. Later, the situation became serious. They advanced street by street. It was out of prudence and concern that they fired fusillades of submachine guns at the house facades. Nowadays, it is hard to imagine how we felt when we were sitting in the shelter hearing the shots. One of us had finally the courage to go out with a withe flag to signify that there were only civilians. All of us had to leave the building and walk under guard to the detention camp in Brand (Lützow barracks). The very next day, they took us to the former barracks in Hombourg (Belgium) with their open trucks. There, like I said earlier, the worst time began: hunger, thirst; we were infested with lice because of the terribly unhygienic conditions. We had to stay for five long weeks under disastrous conditions. Armed members of the resistance movement 'Armée blanche' kept us under guard. All inmates have been interrogated individually and thoroughly by the Americans. They have been released one by one. Then, we were allowed to go, too. Meanwhile, we were so full of lice that you thought the clothes could walk by themselves. Horrible! But, thank God, when we arrived home, the house was still there, though not undamaged. For us, it was the end and a new beginning at once. We had survived and now we could begin over again.
And this beginning had to do with me and the Americans. There was no school yet. I was able to work and thus had to report to the employment office. Otherwise, I would not have gotten the ration coupons. Work was assigned to me. After two tries with undue works – garbage disposal at a glazier and cadaver disposal at the municipal cemeteries department – I was very lucky. Although I hardly spoke English, I applied as interpreter for a senior officer of the American headquarter in Europe, Captain Benard Peters. The task seemed solvable to me, since it was only about everyday communication between the American Captain and the German housekeeper in a noble residence in the south of Aachen. A new world opened up before me. I was overwhelmed with all the luxury. There was everything and even more. All the things we didn't have for a long time. And so, there was enough for me to take home, food, but also bartering objects, because otherwise, the family would have been wageless at that time. Besides, there was not much to translate, since the military officers were mostly at the coal power stations to supply the region with electricity. That reminds me a funny side note which was typical for the casual-American mentality: the American put on their 'steel helmets' dived into their jeeps and raced off. But the helmets were not made of steel, but rather of a kind of special papier-mâché. Since fighting seemed to be over, a more comfortable mockup was obviously enough.
So I had a lot of time, I was eager to learn and I read every paper I found: American newspapers, first of all: 'Stars and Stripes', 'New York Harold Tribune' and so forth. That was how I learned English during these great four weeks. But I learned more than this, for instance, another facet of the U.S. boys, which is probably not generally known. They took me on their so-called raids – they sack the adjacent villas in the first place: silver, chandelier, porcelain… and other valuable things. I don't know what they did with all that.
It seemed that Captain Peters, the former officer in command, cared a great deal for me. I was a young man without any Nazi-relations, tall, gaunt… When the occupation zones have been redistributed, he suggested that I could accompany him to the new headquarter in Frankfort on the Main. But I could not accept this attractive offer, since it would have meant to leave Aachen and my parents. Mad times, indeed!"

Maria Bruders
1933
"Where to start?" War, fear, deprivations… I didn't know much else. My father was a soldier. We were bombed out. During a massive attack on Aachen (14.07.1943), our house had burned down to the ground and we have lost everything. Me, my mother, my grand-mother and my grand-father could save our lives with nothing more but wet cloths on our heads… A few days before, when we thought once again that the end had come, prelates gave us the general absolution. I didn't know why, but later, my grandma explained it to me. You grew up quickly at that time. For instance, the day we escaped by the skin of our teeth. We ran through the burning house into the Pontstr. to take shelter in the Theresien-church. Dead nuns laid on the floor, all of them burnt to death; that was horrible. I will never forget this horrible scene. Now we had nothing. Except for my grand-father. This day, it sounds funny, but my grand-father wore double clothes: two suits, two shirts, two hats and so forth. 'You never know…' he always said when we made fun of him. Providence…
What next? Where to? It had to go on somehow. First, we only had our garden near the Western railway station. We hunkered down there in the first place, but actually, we resided there. That is what describes it best. But then, we were lucky, because a friend of my mother knew of a vacant apartment. And then, we had to start from the scratch. With skill, enthusiasm and various ration coupons, we furnished the new apartment which became our new home soon. After these horrible experiences and the difficult restart, my mother didn't want to leave and lose all this again. Therefore, we had to hide from the SA, law enforcement forces and the police, when the evacuation began. We virtually lived in the cellar for weeks. They ranged the city controlling houses and apartments. And we knew how quickly one could get caught and arrested. Through a wall penetration we saw how they marched our pastor off – he had probably revealed himself because of a smoking chimney. That's how it was.
The fighting in the city got more and more violent and the Americans advanced street by street and cleared all the houses. A few days before the surrender, we found shelter in the Lousberg-bunker, since our bunker in the Saarstr. was used as military hospital for German soldiers. Now there were also Wehrmacht-soldiers in the Lousberg bunker. Then this bunker, as the last bastion of the German Wehrmacht, has been attacked, too. With heavy armaments, so that the whole building was shaking. All of us were praying and we sang together. First, it was eerie. But then it helped. It was difficult enough, anyway. Without light, stuffy air, no sleep. Vermin. Hygiene?!
Some of the German soldiers, young guys hardly older than me, were upstairs with us. They prayed and sang with us. It was very moving. But I'm not able to hear the soldiers song 'Rosemarie' ever since. Other, higher-ranking soldiers asked for white bed sheets, probably for the surrender. But nobody had something like that in this situation. There were some babies, though. So they found some white cloths. The next day, many of the young beetle crushers were dead. They laid in front of the bunker and I had to think: 'This is how my dad has laid there.'
In August 1944, I received the message that my father was dead. My uncle had written the letter from the front and I was the first to read it. Fallen! During the Allied Normandy invasion, only some weeks after his last visit at home when our house had been bombed out. By this time, we received the death message of a good friend, a neighbor's husband. How should I tell my mother? I felt that she couldn't support this horrible news. So I first kept it to myself – I couldn't tell her. Months passed. Afterwards, I have not been a child anymore. Today, I still feel stonily inside. At Christmas, it was worst. Actually, it was too much.
But before, on the day of the surrender, we had to go to 'Camp Brand', that is what the former Lützow-barracks were called. The Americans took us to that place after the liberation of Aachen. Going there was the last effort we had to make – so we hoped. There, we were somehow relieved, but physically and mentally completely exhausted and inwardly empty. Bit by bit, insecurity and fear abated and made way for confidence. It was really over. The fighting at least, not the war and the constant threats. We were liberated. Gasp of relief, silence and inner joy. Things could only get better. But it was still a long way. When we were allowed to go back after a week, we saw all the destructions. Everything was grey. The city seemed to be abandoned. Still, signs of life here and there. We helped each other. Misery bound together as we would rarely see today. I had experienced that yet it in the bunker.
Back to our street. What was left? What would our apartment look like? I still hear my grandma screaming from the cellar. She had gone downstairs to look for the provisions. The Germans had shot anything to pieces. Scorched earth. It was bad for their own people. The Americans had everything. They were not affected by these destructions.
But there were also little pieces of happiness. I remember exactly the wonderful feeling: We found the clothes and linen that we had left at our apartment. I could finally pull off my lice-infested clothes. We burned all of it. Then the fresh and clean clothes on my skin. An indescribable blessing. It almost felt like molting.
All these experiences and many others from this period have shaped me for my life to this day. And at night, the images come alive – still.
Kurt Malangré
1934
I was 10 years old at that time, but I still have strong memories – especially of the horrible nights of bombing. And more than once, I had the feeling of 'this is the end now'… As an auditor, my father first worked in a reserved occupation during the war. Then he became a soldier at the eastern front. Thus, me, my brother (four years my senior) and my mother have been alone during these awful times. For a long time, we didn't know where our father was. Our house (Frankenberger Str. 23) had been destroyed by fire bombs (probably in spring '43). We were lucky, because we had been visiting acquaintances in the Black Forest for some days of vacation. During the most dreadful time, we spend virtually every night in the bunker near the 'Burg Frankenberg'. We had to run each time, because our apartment (then Helferichstr., now Erzberger Allee) was a good way off – and after the alarm, we only had five minutes time at most. Many times, anti-aircraft shrapnel came down on the left and right – I will never forget that.
I clearly remember an elderly couple in the bunker, 'grandma and grandpa Stern', they were Jewish. They were even not supposed to be there. But the children, me, my brother and our friend, understood that it was a matter of life and death – thus, we sat down right beside them as if they were our grandparents. We hid the yellow badge behind ourselves or we covered it with a blanket. The two of them have survived the whole horror!
I remember another anecdote – a laughing matter today. My father was in convivial company with some senior officers of the Wehrmacht: they drank beer and were kidding. I was a little nipper sitting on my father's lap. I wanted to say something, too, and I said to my father who was rather anti-regime: 'These are no Nazis, right, dad?!' Frosty silence! They put their glasses on the table. Faces like thunder. I remember like yesterday: when leaving, the highest-ranking officer said to my father: 'That may be true, but tell your son that he must never say it again!' The whole family got into extreme danger. This was a lesson to me that I never forgot.
I didn't forget much else. Especially the death of my friend Paul Schäbben. He was killed by British hedgehoppers in the middle of the placid meadows of the Nellessenparc in Aachen-Forst. He seeked to escape, but on the spacious field, he was an easy mark for the aircraft fighters. They didn't need to fear defensive fire. There was hardly any German air defense anymore, by that time.
The end of the fighting, the surrender was a liberation. It was finally over – at least the bombing, shelling and fire were… The city was heavily destroyed. Not a soul to be seen. We boys felt free, however. We ruled the Oppenhoffallee, so to speak. At that time, it was called Kaiserallee, because Oppenhoff has neither been installed as mayor nor has he been assassinated yet.
But we had to ensure that we had something to eat. Hunger was a dominant feeling in this time. Youth chaplain Hugo Bauermann has helped us. He has also stayed. And he said: 'If you find something to eat in the houses, you are allowed to take it. But no other things, otherwise you commit a theft!' Beyond that, we ransacked what the Americans left over – their 'forage'. And we were successful: fat, cutlet bacon strip… My mother rendered it down to make fried potatoes.
Then there was this axe-story. The Americans guarded a street and a makeshift bridge. Those were important routes for troop movements, supplies and so forth. Since darkness had fallen and it was bitterly cold, they built a fire. You need wood to do so. They had. And you need to chop it, preferably with an axe, which they had, too. We saw all that from a hiding. We wanted to have the axe, of course. Soon we knew how and when they changed the guard. We took advantage of such a situation to grab the chopped wood and what's more, the axe. We knew what we did and we wanted to care for us and our families. But we were not aware of the risk. It was certainly a mixture of misery and adventure.
Some times or other, the Americans have certainly turned a blind eye to it. We didn't perceive the Americans as enemies. The guys of the front line troops were really nice, most friendly; at least they started out to be. Maybe they knew that those who had disobeyed the Fuehrer's order to leave the city were certainly not convinced Nazis. I don't know. But when the 'Battle of the Bulge' began, they started to be more nervous and suspicious. Of course, there were enough reasons to have bitter feelings, due to what had happened during the war. I remember an event that virtually haunted me: An American soldier was wearing several watches. We didn't have an explanation. Thus we asked in broken English: 'What's that?' And he answered: 'They are from the friends I've lost in Normandy'… We were left speechless and didn't ask further.
And still: I got my first chewing-gum from a 'negro-soldier' – during the war, which was not over yet. It was quite different with the Russian forced workers. They took vengeance and there were many encroachments. But the Americans have sheltered us…"

Leonhard W. Jussen
1934
"After careful consideration, my father and some neighbors decided to stay when the evacuation was ordered. Thus, my parents, my older sister and me could stay together. We were sure that it would be over soon and that we would be liberated. But things turned out differently… First, the German soldiers came back. The Wehrmacht's retreat from the western front – a pitiful sight of all the beaten, injured and completely demoralized German soldiers. For us, especially for us boys, it was a big adventure in the first place, strange as it sounds. Why? The soldiers came back in single troops and had to report to the commandant's office in Aachen. They didn't know the place, but we did.
So, me and my friend waited on the Lütticherstr. to guide them into the right way. We felt like kings, because they took us on their military vehicles. We preferred the track vehicles, of course! A thrilling experience! Beyond that, there were lots of provisions from Wehrmacht stocks. We made a big haul that we took home. We didn't suffer from hunger. But there were different reasons behind. There was, for instance, the restaurant 'Astoria' on the then-called Kaiser-Allee, in close vicinity to the Viktoriastr. First, there were the Germans who needed assistance in the kitchen. The women from the neighborhood helped them. Later, the Americans needed assistance, too. The women helped again. In this way, they could also provide their families with food. The baker Schmitz supplied the quarters with food without taking money. And there were still our 'pilot services'. Not suffering from hunger meant a lot at that time; it was the most important thing, actually.
But it was very dangerous, especially during the days. The SA/SS patrolled and didn't show merci. And the British fighter bombers shot on everything that moved. On the other side, the German soldiers shot from the Kaninsberg above our heads towards Beverau and if they aimed not high enough, it was quite critical for us. But we knew the different sounds of 'hissing' and 'whistling'. We knew whether there was immediate danger (hissing) or rather not (whistling). We had grown up with that.
Now, it got more and more critical in the house. We didn't feel safe in our own air raid shelter. But my father was still opposed to take shelter in public bunkers. But me and my sister had the wind up and thus we went to the Frankenberg bunker on our own. We stayed there for a few days; it must have been around the 10th of September 1944. There, we saw Heinrich Himmer who declared that there was no need for the population to run away and that the city was not to be evacuated; that they would use the super-weapon (V1) and then the fortunes of war would turn for the good of the German people. The evacuation was ordered one day later. We were lucky once again. My father must have had a sixth sense. He came for us at 7 o'clock in the morning. He told us to stay together now. Actually he didn't want us to go, in the first place. Only one hour later, the SS came with trucks and immediately deported all people from the bunker.
There were tens of thousands of leaflets. The city, the population and the soldiers were called on to surrender – ultimately. From that moment on, there was a silence, no shots for about 48 hours. I remember exactly. What should we do? A group of women has commanded all the courage to go to Quellenhof, the then seat of town major Colonel Wilck. They tried to induce him to yield to the enemy – but without success. The shooting continued. At home, something paradox happened. In the cellar, we had a farewell party with all our neighbors. It was fun and eerily beautiful. I remember a merry evening. That is how it was. The next day, we went to the 'tunnel' with all our belongings. It was a public air raid shelter for 100 persons between the Viktoria- and the Kurfürstenstr.
The Americans came closer and closer. We didn't know what would happen. Suddenly, there were two Americans with gats and all of us had to go outside. They made sure that there was no soldier – as was written on a piece of paper at the entrance. We walked and partly ran to the Nellessenpark (forest cemetery). We were accompanied by American soldiers and made some detours to escape the German and American fire. Then, they took us to the former military barracks in Hombourg/Belgium. We were not quite welcome among the Belgians. Understandably enough. We have been registered and interrogated, particularly with regard to a possible Nazi past. The supply situation got critical soon. There was hardly anything to eat or drink. Luck was needed. And we were lucky, because a Belgian cousin of my father kept us afloat. She managed to spring us from the camp. The news was muddled. We indirectly got to know about the liberation of the city. My father wanted to go back immediately and that was what we did with all our belongings. What would it look like there? What about our house? 50% of the city laid in ruins. But our house – we could hardly believe it – was almost undamaged, inside as well as outside.
The Americans in the 'Astoria' were friendly and relaxed. We were not feared – to the contrary. An anecdote: We were by no means sure whether the Germans would come back. After all, there was the Rundstedt-offensive south of Aachen from Mid-December on. From that point on, the Americans seemed to be nervous and worried. I still see the whole Kaiser-Allee (now Oppenhoffallee) full of military trucks. They were prepared to evacuate all the German civillans who were still in the city. For their own protection. The Americans knew that the people have stayed in the city despite the strict order. In this sense, we experienced the American soldiers as a protecting power. They helped us whenever they could. And they peacefully lived with the German civilian population. I never experienced threats, vengeance or arrogance from this side. Later, my father even became chauffeur of an American Major, which was not to our disadvantage as you can imagine. The Americans had everything and there was always something left over for us. Cigarettes, canned goods, alcohol etc.; valuable barter objects.
There is another thing that I remember particularly. The war in Aachen was over and we had some relatives in Walheim. We didn't know whether they were still alive or how they were doing. But we were not allowed to leave the place. Except for the children; and thus, my father said: 'Go there and see how they are doing.' So, I went there and found them. When I came back I told my parents that our relatives were doing well, but that they had no bread. From then on, I went to Walheim two times a week with the sleigh and equipped with bread from the bakery Schmitz. And they gave me butter and milk to take it home. 15 km there, 15 km back. I did this courier service for weeks and months, sometimes with the sleigh and sometimes with the bike. The streets were damaged and it was quite troublesome, but I was proud and it was much to the joy of everyone.
It was only later that I recognized how dangerous and dreadful it was at that time and that we hav been liberated from a system of tyranny. I couldn't realize at that point, which was probably a blessing to me?!"

Heinz Kluck
1938
Do you remember the 21st of October 1944? Where and in which way have you experienced that day?
"We (the whole family except for my father as a railway official and my four brothers as soldiers) have been evacuated. To Münsterland, a few weeks before. After the horrible bombardments, first, only at night, then also by day. The only thing we could do was to take shelter in the bunker. It was horrible – so much fear…" Which feelings do you associate with this date?
"A great deliverance, it is finally over… We didn't even know what warless times would be like. I didn't experience the exact day, actually, since we had been a good way off. Only when the war was over, several months later. Even today, it makes my flesh crawl. Fear and horror were over. That was the most essential thing. But afterwards, things got worse with times of misery and hunger. Those icy winters. 1946-48! But we helped each other. We made something of everything."
What was the city looking like?
"Chaos. Chaos and rubble everywhere. And a burnt smell…! Still in 1946, when we came back. We wanted to go back by all means. We were homesick and longing for our city, our roots. Our house on the Roermonderstr. wasn't there anymore. Thank god, we found a place to live – you couldn't call it an apartment, actually."

Guido Schüller
1938
'I was in the Lousberg-bunker when the surrender took place on October 21, 1944! We, that is my mother, my aunt, two grandmas and my little brother, have stayed in Aachen – despite the Fuehrer's evacuation order. My father wanted us to do so. He had recommended us: 'Stay. Let the Allied troops roll over and nothing will happen to you. It will be over soon.' That was what my mother did and that was what she hoped for. But there we had further reasons to stay. The Gestapo was after my aunt. She had been arrested once. She got caught distributing anti-Nazi-leaflets. But she could escape during a bombing attack! That was why she had to hide from the SA and the police. Thus, we stayed, which was risky enough.
And there was yet another reason: Although we were pretty young, me and my brother were kind of 'burdened' and well, cheeky and imprudently, from time to time. Once, we called out to a passing truck with SA-people: 'You stupid Nazis!' The truck stopped immediately and an SA man slapped our faces: 'How dare you! What's your name?!' But he left it at that and climbed into the truck – and that was it, indeed! In a retrospect, he was actually a very humane SA man, since things might have turned out bad for the whole family.
Another time, it was me who provoked a risky situation: The doorbell rang and I opened the door. There was a man collecting donations for the winter relief: 'Mum, there is a stupid Nazi again!' And this time, I didn't get off lightly. I got an official file entry. But there was more to come: My father had been based in Vienna by that time, outside combat operations. And just at that time, he was removed to a punishment unit in Serbia – a death squad! I don't know for sure whether this was a consequence of the two child incidents. At least, that was the impression we had. And we were very lucky again: My father could run over and 'escape' into Russian captivity. He came back home soon after the end of the war.
So, we had every reason to stay in Aachen and to wait for the liberators. After all the Americans were yet in Roetgen! But then, they didn't come – or not any time soon. The city was virtually abandoned. Nobody was on the streets. The bombardments continued. The Americans came closer and closer. And there wouldn't be anything to eat in a short time. Thus, we started to burglarize, for instance, the bakery Dolhain: bread, Printen, everything edible. The doors were wide open and me and my brother took what we were able to carry. That reminds me a dreadful story. Two 14 years old boys from the neighborhood have been caught burglarizing in greater style. They have been seized immediately, condemned in a fast track procedure and shot in the middle of the street on the same day. Did they do it as a warning to others? I keep in mind the blood stains at the exterior wall, because we always had to pass by that house (Saarstr./Veltmanplatz 2).
Then I fell seriously ill. Middle ear inflammation, it couldn't be treated in the bunker. The doctor didn't have any medication. During the last days of the war, there were only a few, often injured soldiers as well as old or sick people, women and children in the bunker. The soldiers were downstairs while we were in the upper floors. There were severe attacks on the bunker – it must have been shortly before the surrender! Indescribable! The whole bunker was shaking and seemed to be thrown out of joint – as if there had been an earthquake! Some were screaming, most people were praying – it is hardly describable.
Then the end. We have been relieved! That was what my aunt wrote in her records. Then, it was said: 'Everybody out!' We had to wait outside, in front of the Lousberg-bunker. And we saw the German soldiers and Colonel Wilck coming out of the bunker with a white cloth to surrender to the American soldiers. That must have been the surrender of Aachen and the end of fighting in the city. I've seen it, but I didn't understand, of course.
The same day, all civilians had to go to the Lützow-barracks in Brand. 'On a temporary basis' as it was said. We were not allowed to take something with us. We had to leave all our belongings behind; it would be delivered subsequently by the German Red Cross. Valuable goods, jewelry, gold coins, photos, memories: we haven't seen all this again. My father quarreled with the Red Cross to the last.
My grandma was ill, I was ill and somehow, we trudged through the destructed city, up the Adalbert-Steinweg to the barracks in Brand. Three days later, my grandma died. First, we didn't know where they had brought her to. My mother found her in dead-house somewhere in the city. She had sewn her diary and some paper into her clothes: valuable memories and worthless money. They have buried her in a makeshift grave – but only for a short time, because the smell was so strong that she had to be exhumed and buried in a proper grave.
What was then? The bombardments stopped, we could sleep again, if only somewhere on straw. I remember the first encounter with a soldier… black. I had never seen a black person before. An American truck came towards my mother and me. It stopped. A black soldier sitting on the truck bed saw us and threw some bread to us… snow-white bread! You don't forget these things. Another experience: When we were in the camp, the Americans took our house as a quarter. And when we came back after weeks, we worried about what it would look like. Would we find all our things? And then, the unbelievable: the cellar was full of canned goods and provisions of the soldiers! What luck!
And with luck and medicine, I could fight the diseases I had because of all deficiencies, TB, bone marrow inflammation and acute leukemia. But that's another story.
All that has shaped me crucially. I am an enemy of everything extreme right-wing!"