70 Jahre Frieden und Freiheit in Aachen
Eine Initiative der Bürgerstiftung Lebensraum Aachen
Am 21.10.2014 ist es genau 70 Jahre her, dass amerikanische Truppen Aachen und die Aachener befreiten. Aachen ist die erste deutsche Großstadt, die befreit wurde und sich auf den Weg in Richtung Frieden und Freiheit begeben konnte. Die Bürgerstiftung Lebensraum Aachen holt im Jahre 2014 dieses Ereignis in die Erinnerungen der Aachener und Aachenerinnen zurück. Die Bürgerstiftung hat Schülerinnen und Schüler aus Aachen und aus Arlington/VA, der amerikanischen Partnerstadt Aachens, eingeladen, sich mit dem Thema "Frieden und Freiheit" auseinanderzusetzen. Leitfragen dabei waren: Welche Bedeutung hat dieses Thema für uns Schülerinnen und Schüler heute? Und welche Orientierung für unsere persönliche Zukunft ist damit verbunden?
Hier finden Sie die Einladung an die Aachener Schulen zur Teilnahme [pdf].
Hier finden Sie die Ergebnisse der Projekts aus Arlington und Aachen:
---
Peace and Freedom…
(Schülerinnen und Schüler aus Arlington/VA, USA)
Introduction by Thomas W. Skladony
The American authors of these essays grew up in the shadow of war. Almost all of them were in Arlington on September 11, 2001, the day of the terrorist attacks that shook America and the world. Some of them, like my son, saw the Pentagon in flames or could smell the smoke from their nearby homes. For students raised in the times of the Iraq and Afghanistan wars, war and peace are not abstract concepts in school books but vital issues of current debate.
These students also live in Virginia, the home of Thomas Jefferson, author of the Declaration of Independence; and the capital of the Confederacy during our Civil War. Jefferson wrote that "all men are created equal" yet he and other early U.S. presidents owned African slaves. Students in Arlington are constantly reminded of the Civil War—a struggle for human freedom as important as the War of Independence—as they pass numerous war memorials, battlefields, and historical markers all around our community. They understand American history as a never-ending effort to expand our understanding of freedom and to extend the blessings of liberty to previously excluded minorities and outsiders.
Most of these authors are 17 years old. A 17-year-old boy or girl living in Aachen in October 1944 would be 87 years old today. Watching the liberation of Aachen amidst the destruction of war, could that young person ever imagine that a mere 70 years later, Germany would be free, united, rich, democratic, and the most powerful country in Europe?
Many of these students have been to Aachen or elsewhere in Germany and have hosted students from Aachen in their homes in Arlington. It is a great honor for us to share in your 70th-anniversary commemoration of the liberation of Aachen. We send you our thoughts on peace and freedom in the spirit of friendship and respect that distinguishes the entire Arlington–Aachen Sister City relationship.
Thomas W. Skladony is a political scientist whose work focuses on democracy and democratization, especially in Central Europe. He has worked at the American Enterprise Institute for Public Policy Research, Carnegie Endowment for International Peace, and National Endowment for Democracy, all in Washington, D.C., and at the Institute for Public Affairs in Bratislava, Slovakia.
---
One Man's Struggle for Peace in Somalia (Allegra Wham)
In history class we learn about famous people doing big things on the world stage: kings and presidents, generals leading great armies, diplomats negotiating for peace, or even refugees like Sigmund Freud and Albert Einstein who fled their homelands because of political turmoil or persecution. Many thousands of people emigrate each year from war zones or conditions of extreme poverty, yet most of these people will never be featured in our history books. Sometimes, however, these unknown people do important work right in our communities to promote peace in their countries of birth. I recently met a Somali refugee living in Arlington named Bashirov Hermann. Listening to his incredible life story has given me a much deeper understanding of the importance of peace and freedom in my own life.
Bashirov Hermann was born Bashir Hassan in Mogadishu, Somalia in 1983. He considers September 10th his birthday because that is what his identification documents say, but due to the chaotic conditions in Somalia in the 1980s, Mr. Hermann does not have an official birth certificate and is not totally certain what day he was born.
Mr. Hermann is an orphan who never knew his real parents. He was raised in an orphanage in Mogadishu run by an organization called SOS-Kinderhof International. This organization was founded by Hermann Gmeiner, an Austrian man who worked with homeless children and orphans in Austria after World War II. Gmeiner believed that these children needed stable homes, loving surrogate parents, and a good education. His work was successful, and his organization soon established children's villages in Germany, elsewhere in Europe, and eventually all over the world.
SOS-Kinderhof believes that children should be taught in their local languages by local teachers. Like all the other children at his school, Mr. Hermann learned to speak Somali and to practice the Muslim faith. He lived with his surrogate family until the age of 19. Although the SOS-Kinderhof was usually a safe refuge for the children, even it could not always protect them from the dangers of Mogadishu. Mr. Hermann saw people—even his own step-brother—shot and killed on the streets simply for belonging to the wrong tribe. Tribal identity is especially strong in Somali culture. Because the Somali people lack literacy and education, they do not know how to live peacefully with fellow Somalis from a different tribe. As an orphan, Mr. Hermann did not even know his tribal identity, which marked him as someone strange and different in Somali society. By the time he was nineteen years old, Mr. Hermann knew he had to get out.
With the help of his surrogate parents, Mr. Hermann moved to SOS-Kinderhof schools, first in Kenya and then in Ghana, where he started to learn English. While in Ghana he helped some of his friends complete applications for American internships. He ended up filling one out for himself, and was accepted for an internship in San Diego, California. He considers February 6, 2005, the day he arrived in California, his second birthday because that was the day everything in his life changed. He changed his legal name from Bashir Hassan to Bashirov Hermann to honor Hermann Gmeiner and devoted himself to improving his English.
His first internship, at a California radio station, was not successful. Mr. Hermann found it difficult to make the transition to his new life in San Diego. He could not concentrate at work and eventually lost his job. Faced with the prospect of being deported back to Somalia, Mr. Hermann spent long hours thinking about his future and why he wanted to be in America. For the first time, he realized that he alone was responsible for his life.
Mr. Hermann met a family that listened to his story and took him into their home. With their help he applied for—and received—political asylum in the United States. For the next several years he worked a series of jobs and took college classes in California while also saving money to do what he really wanted: to be an advocate for the Somali people in Washington, D.C.
In 2012 Mr. Hermann moved from California to Arlington, Virginia and founded the Somali International Affairs Council (SIAC). The SIAC began as a one-man operation but now has several volunteer staff members. Eventually Mr. Hermann hopes to hire paid professional staff. The mission of the SIAC is to advocate for Somalia and the Somali people, and to help visiting Somalis make contacts in the U.S. government and the donor community. Most Somalis do not realize that the United States is the largest financial donor to their country because few Americans ever go there. The most visible foreign donor on the ground in Somalia is Turkey, a fellow Muslim nation. Mr. Hermann would like to see greater U.S. involvement in such areas as literacy education, health care, and business development, but he knows that before any of these things happen, Somalia must be at peace.
Bashirov Hermann's life story fascinated me. He grew up surrounded by hatred and violence and yet now he has dedicated his life to peace. Faced with failure and deportation, he focused his energies and made himself a success. But instead of just enjoying that success and forgetting where he came from, he is celebrating where he came from so he can help his people. He speaks passionately and eloquently about his hopes for the future of Somalia, and also about his love for America, the country that took him in. Mr. Hermann proudly reported that he will become a U.S. citizen in December 2015. Once he has his U.S. passport, his first international trip will be to visit the SOS-Kinderhof International main office in Innsbruck, Austria.
People like Bashirov Hermann may never be featured in history books or appear on the covers of magazines. Yet people like him make the world better, and show that one person doing good work can change a whole country. I am inspired to know that someone who lives so close to my home in Arlington is doing so much for peace.
Allegra Wham is an 11th- grade student at HB Woodlawn High School. She runs year-round, loves to read, is passionate about animals, and is active in many clubs at her school. Allegra will participate in the Arlington-Aachen high-school exchange in July 2014.
---
War and the News Media: The Failure of the American Press by Isabelle Foley
The American press has failed to carry out its constitutionally-protected mission to report accurately on our country's foreign wars. In times of war, the American people rely on journalists to deliver timely and truthful accounts from the battleground. These broadcasts are not just "news" but are the basis upon which citizens form their own opinions about the war and the government. A true representative democracy cannot exist without accurate reporting because a democracy requires informed citizens. Despite this, the news media in the United States have acquiesced in government censorship and have displayed bias in their reporting of the news. This is readily apparent in our present-day military engagements in the Middle East.
The American public's view of our conflicts in the Middle East has been distorted by the government, military, and news media. During the 1990–1991 Persian Gulf War, for example, the U.S. military tried to convince Americans that this was would be a clean conflict with few U.S. casualties. To achieve this, demonstrations of "smart bombs" (also known as a guided or precision bombs) landing perfectly on their military targets attempted to cover up that Iraqi civilians were being killed. In fact, only 7 percent of the bombs used in the war were "smart bombs," and 70 percent of the bombs dropped on Iraq missed their targets. A decade later, president George W. Bush insinuated a close relationship between Iraqi dictator Saddam Hussein and al-Qaeda, the terror organization led by Osama bin Laden. President Bush also claimed that Saddam Hussein possessed weapons of mass destruction. These assertions were used by the Bush administration to justify the 2003 U.S. invasion of Iraq. Opinion polls taken during the early years of the Iraq War indicated that the majority of the American people believed president Bush's claims, even though they were later shown to be false or exaggerated.
One reason the U.S. news media failed to investigate government claims like these is that so many newspapers and television networks have cut back on the number of correspondents they post in foreign countries, primarily for budgetary reasons. Unfortunately, the journalists who drop into various trouble spots on short notice rarely have the in-depth information or local contacts that permanent foreign correspondents have. At a time when international events have a greater impact on domestic affairs than ever before, the loss of quality news reporting makes Americans even less well informed about foreign countries than they already are.
Of course, there are other sources of uncensored or nonpartisan news that Americans could read or view—but few choose to do so. For example, Al Jazeera America, a branch of the Arabic-language cable news network based in Qatar, is having a hard time gaining viewers in the United States because of the common view that the channel has an anti-American bias. During the Iraq War, for example, the Bush Administration and other critics claimed that Al Jazeera was a propaganda network, and they condemned the network for showing images of dead American soldiers or American prisoners of war. At the same time, U.S. media regularly broadcasted images of Iraqi prisoners of war, an action that revealed their identities and jeopardized the safety of their families. In response to U.S. criticism, Al Jazeera maintained that its role is not to sanitize war but to report it.
In 2003 the U.S. military did try to cooperate with news media by allowing journalists to be embedded with troops in Iraq. These journalists were permitted to take pictures and report live from the front lines, but they were also required not to disclose specific details of the troops' locations and missions. This balancing of on-the-scene reporting with the need to maintain secrecy is one way that news media can give the American people a more comprehensive, less biased view of war. Even under these circumstances, the military continues to control the media's access to information.
The First Amendment protects freedom of the press in America, but it should also be respected in the international community. In 2001, Al Jazeera cameraman Sami al-Hajj was detained in Pakistan and imprisoned at Guantanamo Bay for more than six years. Because Al Jazeera was suspected of supporting al-Qaeda, al-Hajj was repeatedly interrogated regarding the network's political ties. He was released without charge in 2008, but the U.S. military used its immunity on its naval base in Cuba to tarnish the universal rights of the free press. Even U.S. soldiers serving in the Middle East have been disappointed with the lack of access the press has had to the battlefront. While tactical information has been protected, limited coverage has prevented the public from seeing both the dedication and the difficulties faced by American troops. It has also created a sentiment among journalists that the independence of the press is waning. The role of journalism in informing the public is a cornerstone of democracy, and it is for this reason that freedom of the press is protected by the First Amendment.
Another issue in the American press is the influence of one-sided political bias in what should be neutral news reports. Some of our most influential newspapers, like the New York Times or Washington Post, have a reputation of liberal bias; others, like the Wall Street Journal, are considered more conservative. Some experts warn that because of the growth of obviously liberal or conservative cable-news networks, many Americans now get their news and analysis from journalists who share—and reinforce—their political opinions. At the start of the Iraq War, newspapers and television networks all over the world questioned the Bush administration's motives and criticized its actions. Although the administration faced domestic criticism later in the campaign, American viewers saw little of these early issues surrounding the invasion of Baghdad. The press's failure to provide foreign viewpoints has left most Americans ignorant of their poor image and reputation overseas.
For more than a decade, our country has been engaged in the most pivotal political conflict of my generation: the War on Terror. Throughout this time, the American press has been complicit in government censorship and has allowed political bias to distort its news reporting. Some may argue that if Americans feel that their news is incomplete, they should seek out foreign alternatives. But the American people have shown little desire get their news from foreign media because they are unaccustomed to—and therefore, are uncomfortable with—a more raw style of reporting that presents graphic images from conflict zones. As a democratic citizenry that fails to educate itself with foreign and diverse perspectives, we risk losing sight of the implications of our actions oversees.
It is time for the press to live up to its duty to the American people. A combination of permanent foreign correspondents and embedded journalists is needed for comprehensive and accurate reporting that can reveal the true impact of the wars in which we are involved. By taking full advantage of embedded journalists and foreign correspondents, incorporating foreign networks' broadcasting, and limiting editorial biases, the press can help a well-informed public demand accountability from its government. If no such effort is made, the United States risks losing sight of its role as an international superpower.
Isabelle Foley is an 11th-grade student at Yorktown High School, where she is a former reporter and current editor for the school newspaper. She recently visited Germany for a family reunion in Berlin; her aunt is married to a former German ambassador, and she has several relatives living there. Isabelle plans to pursue a career in international relations and journalism.
---
My American Hero (Jeremy Frenzel)
Like many American families, my family combines ethnicities from different parts of the world. My father's ancestors left Germany in the nineteenth century seeking a better life in the United States. One of my German-American grandfathers, and also one of my great-grandfathers, was a Lutheran minister. My other great-grandfather was a carpenter who came to America when he was just a teenager but eventually became a prosperous property owner who rented houses to tenants in St. Louis, Missouri. My paternal grandfather died before I was born, so I never got to know him, but one amazing fact is that because my grandparents left Germany in the1800s my ancestors never had to live under the oppression of the Nazis or the East German communists, although certainly some of their relatives did.
My father wanted my brother and me to learn more about our German heritage, so in the summer of 2013 our entire family visited Berlin and Dresden, as well as several small villages in Saxony where my father's grandparents came from. In the tiny village of Mildenau we found a cemetery with our family name Frenzel on several gravestones. Even though we never knew these people, I felt they are part of my German heritage.
My mother's parents immigrated to the United States from China in the 1940s. My grandmother's father was a diplomat in the nationalist government of Chiang Kai-Shek. He was posted in the United States and soon brought his family with him. Because of the civil war betweeen the Nationalists and the Communists led by Mao Zedong, my great-grandfather and his family could not return to China and did not want to go to Taiwan with the rest of the Nationalists. Instead, the entire family was granted U.S. citizenship by a private act of the U.S. Congress.
My Chinese grandfather (we called him "Yeh Yeh," which means grandfather in Mandarin) came from a noble family and had a direct bloodline to the last emperor of China. As a boy he was treated like royalty and had servants and even eunuchs care for him. When Yeh-Yeh was still a young boy, the Japanese invaded China and put his entire family under house arrest for seven years. The Japanese tortured Yeh Yeh's father several times a month to the point that he would come home bleeding and bruised all over. Later, Yeh Yeh's father (my great-grandfather) became the private secretary to John Leighton Stuart, the last U.S. ambassador to China before the communist revolution. Following the communist takeover, Ambassador Stuart tried to get the United States to establish diplomatic relations with Mao's government, but he was not successful. When he was forced to leave China in 1949, he took Yeh Yeh's father with him to America, but my grandfather and his mother were left behind.
The communists were furious that Yeh Yeh's father had escaped to freedom. For nine months they interrogated my grandfather and his mother for as much as six hours a day. By some miracle, they escaped from Beijing and made their way to Hong Kong where, with the help of the American government, they got to San Francisco on a boat. Yeh Yeh was reunited with his father, and the family moved to Washington, D.C.
Yeh Yeh was fifteen years old and spoke little English when he arrived in America, but he quickly mastered the language. He earned his undergraduate degree in international relations at Georgetown University and also earned a law degree from George Washington University.
My grandfather was commissioned into the U.S. Army Judge Advocate General's Corps in 1961 and served for 33 years until his retirement in 1993. He served all over the world—including three years in Heidelberg and two years Frankfurt, Germany—eventually rising to the rank of major-general. He was the first Chinese-American to become a general in the U.S. Army and is the only minority ever to be the Judge Advocate General, the officer in charge of all of the Army's lawyers. After retiring from the Army, my grandfather worked for a couple of U.S. companies that do business in China. He was a member and later chairman of the Committee of 100, a group of prominent Chinese-Americans that works to improve relations between the United States, China, and Taiwan. Even though Yeh Yeh had escaped China under very difficult circumstances, and even though he was a loyal U.S. citizen, my grandfather never forgot the country of his birth. He spent the final years of his life helping to develop closer ties between the United States, China, and Taiwan.
Yeh Yeh always talked to my brother and me about America as a land of opportunity. As a boy he experienced firsthand the power of oppressive governments to use torture and imprisonment to force people to their will. In America, he used the freedom he found here to achieve so much. Yeh Yeh died in 2010 at age 75 and was buried with full military honors at Arlington National Cemetery. He truly is my American hero.
Jeremy Frenzel is an 11th-grade student at Yorktown High School. He plays soccer and practices Wing Chun, a type of kung fu. Jeremy participated in the Arlington-Aachen elementary-school school exchange in 2008. Besides Germany, he has visited China, Turkey, Belgium, Canada, Slovakia, and the Czech Republic.
---
Dystopia and Technology (Brendan Gray)
As a young boy I spent most of my free time playing sports like basketball, football, or baseball with my friends. As I grew older, I also developed a strong interest in video games and other electronic toys. When I was eight years old I received a Gamecube, which had a variety of low-definition sports and shooting games. I remember coming home from school and going directly to my Gamecube, where I could play games blissfully unaware of what my two older sisters or my parents were doing in our home. The games were fun, challenging, and in some respects more interesting than what was happening in real life.
As I grew older, the quality of these video games improved and the games themselves got more complicated and more interesting. They also became more interactive. I started playing online video games with friends, and then with strangers from anywhere in the world. I did not know them, and they did not know me—but the computer did remember me and kept an online record of my games and opponents and scores. I gradually came to realize that I was not just watching my video games; my video games were watching me.
Like most American teenagers, I read George Orwell's famous novel 1984 in a high-school literature class. This book was written in 1948, a few years after World War II, but the story takes place in London in the "future" of 1984. English society is divided into three groups: an upper class of inner-party members (the top 2 percent of the population) comprised of senior government leaders, an educated middle class of outer-party members who hold state administrative jobs (13 percent), and an uneducated proletarian class (85 percent) that performs menial labor. In Orwell's dystopia, the government—led by a dictator called Big Brother—keeps the population in a constant state of fear by broadcasting nonstop propaganda about foreign enemies and wars. The so-called thought police monitor members of the outer party to prevent any possibility of revolt and to prevent anyone from even thinking anything that contradicts the teachings of the inner party. Video surveillance cameras monitor people as they go about their everyday lives. Every aspect of personal life is controlled by the government. There is no freedom and no privacy. Huge posters throughout the city remind citizens that, "Big Brother is Watching You."
The main character in the novel is Winston Smith, a member of the outer party whose job is to rewrite history for his employer, the Ministry of Truth. Winston falls in love with a young woman named Julia, and the two of them try to escape the surveillance cameras to be alone. They find refuge and privacy at a friend's house but soon learn that the "friend" is actually a member of the thought police. Winston and Julia are captured and forced to undergo torture and brainwashing to restore their total obedience to Big Brother.
One of my subjects at school this year was a government class. We learned about the U.S. Constitution and our three branches of government, civil liberties, and the main events in history that shaped our political system today. One of the issues we covered was the right to privacy in the aftermath of the National Security Agency (NSA) spying scandal. Most Americans probably had never heard of the NSA before Edward Snowden, an NSA contract worker, revealed lots of secret information about its work in June 2013. We learned that the NSA was collecting phone records on just about any American who used a telephone. Even if the NSA did not listen to all the calls, it did record the dates and times of all phone calls, and all the phone numbers that people called. We later learned that the NSA was actually listening in on the phone calls of foreign persons and even political leaders like Germany's chancellor Angela Merkel.
When we talked in class about whether it was legal, constitutional, or even useful for the NSA to collect the phone records of ordinary American citizens, it made me think about all the other electronic devices I use in my daily life that also collect information about me. The list is long—and scary.
I got my first cell phone when I was 11 years old. Today I take my cell phone with me everywhere I go, which means my telephone company or the government can pinpoint my movements from one cell tower to the next. I also got my first e-mail account and learned how to search the Internet using Google at this same time. I remember once I looked up the score of a Washington Capitals hockey game on my cell phone, and since then I have gotten updates on the Capitals and all the other Washington, D.C sports teams. I now know that Google keeps track of all my Internet searches and Web surfing so it can show me advertising related to my searches, and make money for Google.
My e-mail provider knows all of my contacts and how often I write to them. I use the video-streaming service Netflix to watch movies and television shows. (Good news! Netflix is coming to Germany later in 2014!) I also listen to music on iTunes Radio and Pandora. My mother has a Kindle electronic book reader and buys all her e-books on Amazon. Amazon knows my mom's reading habits and whenever she goes back to the site, it remembers the books she looked at last time, and even tells her what other people like her are reading.
I communicate with my friends on Facebook and Twitter and send them photographs using an online service called Snapchat. But I know that these social networks work like the search engines by taking any information I post (my likes and dislikes, personal comments, jokes I share) and sell this information to companies that use it for marketing purposes. Most of these social networks require that we agree to their terms and conditions when signing up for a product or service, including a clause that allows them to collect and sell our personal data.
I have a Global Positioning System (GPS) unit in my car that helps me find my way—but also records everywhere I go. I pay for many purchases using a bank debit card. And I use so-called customer loyalty cards at my local grocery and department stores.
When I think about it, I realize that my friends and I are probably the first generation in history to have information about almost every aspect of our lives recorded by some digital device. What if someone—a secret government agency, an Internet hacker, or even a private company seeking to make money—could find some way to pull all this information together? He would know where I am, where I go, what I buy, what I read, what music I like, who my friends are, what I eat, what medicines I take, what I think. He would be just like Big Brother.
America today is not like the London of Orwell's 1984. We have democracy and freedom and privacy. I do not plan to stop using my cell phone or Google or any of the other devices that make life fun and convenient. I cannot see myself renouncing technology and going "off the grid." I think the benefits of technology outweigh the risks, but I do see the risks. Governments have always tried to control technology or to use it to control citizens. It is up to us as free citizens to demand that the government and private companies stop collecting our private information, so that no American ever has to fear that Big Brother is watching.
Brendan Gray is an 11th-grade student at St. John's College High School in Washington, D.C. He plays soccer, basketball, baseball, and video games. Brendan spends his summers as a camp counsellor in North Carolina.

---
Give Me Liberty — or Shoot Me (Andrew Loranger)
In recent years, gun rights and gun control have become heated topics of debate in the United States. Our country has a murder rate of about 4.7 murders per 100,000 persons, which many people, including me, consider unacceptably high. Some argue that restricting an American's right to purchase a gun would help reduce our crime rate, but I believe the opposite is true. Rather than depriving Americans of their Second Amendment right to bear arms, the government should promote gun-safety awareness, allow more citizens to carry concealed weapons, and improve the background-check system for gun purchases.
The American Founders protected our most fundamental freedoms in the first ten amendments to the U.S. Constitution, which we call the Bill of Rights. The Second Amendment states that "the right of the people to keep and bear arms shall not be infringed," and the U.S. Supreme Court has ruled that this right applies to all Americans, not just to those serving in the military. The Founders realized that the government cannot always protect the people, that Americans have a right to protect themselves and their families, and even that a tyrannical government could someday turn against its own citizens. History provides many examples of dictatorial leaders who used gun control as a first step toward establishing large and oppressive governments—but it is hard to imagine this ever happening in the United States as long as we have the Second Amendment.
Gun-control advocates argue that restricting private ownership of firearms will reduce crime, but the facts do not support them. The great majority of those who own guns legally are law-abiding citizens, while most individuals who commit crimes while using guns obtained their guns illegally in the first place. Making gun ownership more difficult for law-abiding citizens will not stop criminals from obtaining guns, but it will limit the ability of people to protect themselves. It is estimated that as many as 34 percent of families living in the United States own one or more firearms. Some experts calculate that private U.S. citizens own as many as 300 million firearms. Even among families that do not own guns, there is widespread support for the right of our friends and neighbors to own guns for hunting, recreational shooting, or self-defense.
Gun-control activists and politicians are currently lobbying to ban private ownership of semi-automatic rifles by calling them "assault weapons." In fact, real assault weapons (that is, weapons that fire continuously with one pull of the trigger) are extremely difficult to purchase by common citizens and are used mostly by law-enforcement officers and military personnel. By contrast, semi-automatic rifles require one pull of the trigger to fire one round, just like single-shot hunting rifles. In any case, rifles of all kinds account for less than 3 percent of all murders. So-called assault rifles are not the "killing machines" as portrayed by some politicians and gun-control activists.
Numerous American cities have tried to reduce crime by restricting gun ownership. Washington, D.C., for example, enacted a law in 1975 that required all firearms to be kept unloaded and disassembled, or bound by a trigger lock. The law was intended to reduce the city's high murder rate, but in fact the number of murders in Washington rose dramatically following passage of this law. In 2008 the U.S. Supreme Court ruled that the District's gun-control law was unconstitutional, and within four years the murder rate in Washington decreased by 111 percent.
Chicago, Illinois has some of the strictest gun-control laws in the United States, yet that city also has some of the country's highest murder and crime rates. By contrast, Houston, Texas, which is similar to Chicago in size and other demographic factors, has a murder rate that is one-third lower than the murder rate in Chicago because of widespread legal ownership of guns in Houston. Some U.S. communities have actually made gun ownership mandatory for every head of household, and have seen their crime rates decrease significantly.
In Europe, the nine nations with the lowest gun-ownership rates have a combined murder rate three times that of the nine nations with the highest gun-ownership rates. In the United Kingdom, the number of recorded violent attacks soared by 77 percent during the decade following the Labour Party's election and subsequent banning of handguns in 1997. Clearly, the evidence shows that widespread legal gun ownership is a strong deterrent to crime.
Of course, the right to own a gun implies a corresponding responsibility to use that gun safely and to store it securely so that it cannot be misused. Gun owners should be required to take gun-safety classes, just like new drivers are required to take classes on how to drive automobiles safely. Some people, including persons convicted of violent crimes, persons with mental illnesses, and drug abusers, should not be allowed to own firearms at all. The federal government should modernize the background-check system for gun purchases, and should include purchases made at gun shows in the background-check system. But for the vast majority of law-abiding citizens who wish to exercise their constitutional right to bear arms, the background-check process should be quick, easy, and convenient.
I also believe that allowing law-abiding Americans to carry concealed weapons with them almost anywhere they go is not only consistent with our Constitution but is sound public policy. States should be required to issue concealed-weapon carry permits to all citizens who meet a minimum-age requirement, do not have prior felony convictions or recent drug convictions, and have not been confined to a mental institution. In 1987 Florida passed a concealed-weapon law that became a model for other states. After passing this law, Florida's homicide rate fell from 36 percent above the national average to 4 percent below the national average. Florida today continues to have some of the lowest violent crime and murder rates in the country, thanks in part to its law allowing citizens to carry concealed weapons.
It is always front-page news when a mentally-disturbed individual takes firearms to a school, movie theater, or shopping mall and starts shooting victims at random. In most cases these sick individuals end up taking their own lives after killing as many innocent people as possible. It is hard to see how passing more restrictive gun laws will stop someone determined to commit mass murder and suicide. At the same time, we hear much less about those incidents where an active shooter or potential shooter was confronted by an armed defender who happened to be at the scene when the attack commenced. And we usually hear nothing about the murders and violent crimes that do not occur because criminals were deterred by the possibility that the intended victim had a gun.
In December 2012, in one of the most tragic mass shootings in recent years, a deranged gunman killed 20 children and six adults at Sandy Hook Elementary School in Connecticut. Connecticut law sets strict limits on where concealed weapons may be carried and prohibits civilians from carrying weapons in schools. How many young lives could have been saved if even one teacher at Sandy Hook who was licensed and trained to carry a gun was allowed to protect the children at that school? How many lives could have been saved at Columbine High School in 1999 or at Virginia Tech University in 2007 if armed civilians had been able to stop the attacks?
Although it might seem counterintuitive, statistics, facts, and history all show that increased gun ownership by law-abiding citizens results in less crime and fewer homicides. When legislators consider writing new laws concerning gun ownership, they should base their decisions not on raw emotion but on careful review of the facts. Private gun ownership has been a part of American history since before our independence, and it is a part of our character as a free people. The American Founders were wise to protect the right to bear arms in the Second Amendment to the U. S. Constitution, and we would be wise to keep this essential freedom a part of our fundamental law for centuries to come.
Andrew Loranger is an 11th-grade student at Yorktown High School. While growing up, Andrew played soccer and basketball. He has also been a competitive swimmer since the age of seven. He has been a part of several record-setting relay teams at the pool where he swims during the summer. Andrew is interested in politics and has volunteered in both national and state-wide election campaigns.
---
Don't Blame the Guns (Patrick Rita)
The first time I fired a gun I was eight years old. My father had taken me quail hunting with his father, my grandfather. Since then, I have been on many hunts not only with them but with uncles, cousins, and many other family members. Every year, I look forward with excitement to the opening of duck season. Both of my grandfathers have passed away since the first time I went hunting with them. I realize now how much I learned from them not only about hunting and nature but about life and growing up. There were times when it rained all day and our car got stuck in a field of mud. There were days when we went hunting and never even fired our guns. What makes these hunts truly memorable for me is the bonding between me and my relatives, and the continuation of an important family tradition.
The drive to my very first hunt took three hours. For almost the entire time, my father talked to me about gun safety. He taught me using the same words that his father had said to him 30 years before that day. I learned that picking up a gun is a serious thing that should only be done by someone who respects its power and understands its danger. I am sure I will remember his words 30 years from now, and if I ever have a son, I will pass those words of advice on to the next generation of the Rita family.
As much as I love hunting, I only go out with my gun a few times a year. I play several other sports, and I have lots of hobbies that I love to do on the weekends. My father also rarely hunts. He spends most of his weekends with our family and loves to play golf in his free time. Hunting is an important activity for my family, but we enjoy doing many other things. Our family does not need to go hunting to put food on the table, but like most hunters we enjoy grilling fresh, wild game that we have taken. In Virginia, where we live, hunters also play an important role in controlling the white-tailed deer population, which otherwise would dominate the entire ecosystem.
Several of my friends at my high school are member's of the school's riflery club. The team competes in marksmanship competitions all around the Washington, D.C. area, and in the past few years our team—which includes both boys and girls—has been very successful. Like me, my friends who shoot rifles also play other sports like basketball and football.
Unfortunately, not everyone who picks up a gun is as responsible as the hunters and sport shooters I know. And every time there is a mass shooting in the United States, the gun-control advocates are quick to blame the guns. What they fail to see is that the people causing these tragedies are mentally unstable and are incapable of using guns responsibly. Prohibiting gun ownership will not cure mental illness and will not reduce violence in America—but it will make Americans less safe in their homes. According to the Gun Owners Foundation of America, each year firearms are used more than 80 times more often to protect lives than to take them.
As someone who took the time to learn how to use a gun safely, it bothers me when gun-control advocates describe the United States as a trigger-happy, gun-obsessed society. In almost all cases of mass shootings, a mentally-ill person got hold of a gun from someone with a legal right to own that weapon, and used it to commit mass murder. Although I am opposed to gun control, I believe that thorough background checks should be standard when buying any type of firearm. Likewise, I am fully in favor of common-sense laws that would limit sales of some of the so-called assault rifles. Hunting rifles and handguns are all Americans need to protect themselves, and they are all that should be sold to the general public.
Banning guns would simply create a black market for guns, just as there is a black market for illegal drugs. Considering how many proud gun-owners there already are in the United States, I cannot see how the government could ever ban guns and confiscate them. Guns were never meant to cause tragedy. In fact, they are used much more often for good than harm. No one ever hears in the news about how someone defended their family from an intruder, but they do hear about all the gun murders that take place much less frequently.
When America was first settled, it was a vast and empty land. The early settlers relied on guns to provide food for their families, as well as to defend their homes from wild animals or Native American attacks. Back then, gun ownership was the norm, and having a gun could mean the difference between life or death. Guns have played a huge role in American history and it is no surprise that they are still prevalent today. Unlike Europe, many parts of the United States are still quite rural, or even wilderness. Owning a gun in these parts of our country is a normal thing, just like owning a lawnmower or other garden tools in the suburbs where I live.
Benjamin Franklin, one of our Founding Fathers, once said that, "Those who would give up an essential Liberty, to purchase a little temporary Safety, deserve neither Liberty nor Safety." Franklin may have been referring to the fact that the U.S. Constitution gives every American the right to bear arms. As soon as that right is taken away or limited, we Americans become less secure in our liberties. George Washington, our first president, put it best when he said, "A free people ought not only to be armed and disciplined but they should have sufficient arms and ammunition to maintain a status of independence from any who might attempt to abuse them, which would include their own government." More than two centuries later, we should still take guidance from the Founders who gave us this important freedom.
Patrick Rita is an 11th-grade student at Yorktown High School. In addition to hunting he plays basketball, baseball, and golf. Patrick is also an editor of the Yorktown high school student newspaper.
---
A Taste for Freedom (Liam Schmidt)
In my opinion, freedom means being able to control my own life, and to be successful because of my own decisions and hard work. I learned this definition of freedom by watching my parents operate a small business called Backyard Barbeque.
Backyard Barbeque is a family-owned restaurant and catering company in Arlington, Virginia. Barbeque is a popular type of cooking in the southern United States in which pork, beef, or chicken are prepared over a wood fire for as long as 12 hours. The slow cooking and wood smoke, plus the special sauces we use, give the meat a delicious flavor and texture that cannot be matched by other cooking methods.
Our restaurant is in the middle of a small shooping center surrounded by other small, family-run businesses. Next to us is a Chinese restaurant, and nearby are a frozen-yogurt shop, a barber shop, two women's hair salons, an Italian deli, and a dry cleaner run by a Korean-American family. All these places were started by individuals or families who wanted the freedom of running their own business.
My father was born in Long Island, a part of New York state, and has worked all his life in restaurants. My father's family immigrated to the United States from Germany a long time ago, but we do not know any relatives still in Germany, and I have never been to Germany. My mother was born in Dublin, Ireland, and came to the United States as a college student in 1988. My mother has three sisters, one brother, and her own mother living in Ireland, and we visit them almost every summer. I am only 18 years old but I have probably been to Ireland 15 times.
In 1988 my mother got a job as a waitress in Long Island at the same restaurant where my father was working as a chef. They fell in love and got married, and then in 1989 they moved to Virginia to take jobs here. In the beginning my father was a chef for a famous Washington restaurant, and my mother worked for several catering companies. Although they both had secure jobs, they also had the same dream: to run their own busiess doing something they really loved. In 2005 they started a small catering company that provided great food for parties, school picnics, and special events. Many people told my parents that our barbeque was so good they wished they could buy it all year long. When a suitable location became available in a shopping center near our home in 2009, my parents quit their jobs and opened their own restaurant, Backyard Barbeque.
At that time I was too young to participate in the discussions they had about whether they should risk all their money on a business venture, but I am sure this was not an easy decision to make. They knew that many small businesses in America fail, often in the first year. They had a nice house and a mortgage to pay. They had two young sons who would someday need money for college. And they knew that neither the government nor anyone else would help them if they failed.
Even so, my father also knew that he was a great cook. My mother was confident that she had a business skills to run a restaurant. And they had lots of friends in the community who we expected would be our first customers. Most importantly, my parents had the willingness to work as hard and as long as necessary to be successful.
My father works about 14 hours a day. He starts cooking the meat and preparing other food at 05:00. My mother goes to work at 10:00, and the restaurant opens for lunch at 11:30. She stays at the restaurant until 21:00. Both of my parents work six days a week, with Monday being their only day of rest. We have six or seven students who work part-time when the restaurant is busy. And I also work about 30 hours a week at Backyard Barbeque.
Sometimes I wish I had more time after school to play sports or just spend time with my friends. But when I see how many hours my parents are working, I feel an obligation to help them. I know my parents would rather pay money to me than to some other worker. Moreover, the money I earn at Backyard Barbeque will help pay for my college education, and it also allowed me to buy my own car. Having your own car at age 18 is something that all American teenagers consider an important part of personal freedom.
In September 2014 I will begin my studies at Virginia Commonwealth University in Richmond, a city about two hours away from Arlington. I plan to study business. I would like to be an accountant but it is possible that I will take over my parents' restaurant when they retire. When I think about the free-enterprise system in America, I do not think about economic theories or about capitalism as an economic system. I think more about the practical concerns that individuals face starting and running a family-owned business, such as taxes and regulations, finding a good location, advertising, and hiring good workers.
All American teenagers learn about the U.S. Constitution and Bill of Rights, which guarantee freedom of religion, freedom of speech, and many other rights. In my opinion, the freedom to start your own business is another essential freedom that makes the United States such a prosperous country. People come to Backyard Barbeque because they are hungry, but we know they have many other places they could go to eat. We keep our customers happy by giving them great, fresh, home-made food and friendly service.
At present our business is doing very well. We have a strong customer base that keeps growing, and we have no direct competition in our neighborhood for the type of food we offer. Even so, there is no guarantee that people will keep coming back or that the business will succeed. That will depend primarily on our smart decisions and hard work. But as long as hungry people keeping coming to Backyard Barbeque, my parents will be free to follow their American dream.
Liam Schmidt is a 12th-grade student at Yorktown High School. He played on the Yorktown varsity football team during the 2013 and 2014 seasons. In September 2014 he will begin business studies at Virginia Commonwealth University.
---
Freedom is Worth the Fight (Kathryn Scruggs)
Freedom means different things to different people. Some people believe freedom is hope or love. To me, freedom is the right to love your country and your people, to live your life as you choose. To people who have no freedom, freedom may appear to be the light at the end of the tunnel, as a way forward out of the dark. Fighting for freedom is hard but it is worth the effort.
In the summer of 2013, six other Arlington students and I participated in a student-exchange program in Ivano-Frankisk, Ukraine. We spent almost three weeks living with families there and learning about how the lives of teenagers in Ukraine are both similar to and different from our lives in America. We learned what life was like when Ukraine was a part of the Soviet Union, and saw first-hand the challenges Ukraine faces as it develops into a free and democratic country. Several months later, the Ukrainian students came to stay with us for two weeks in Arlington. My family also hosted a Ukrainian woman who came to Arlington through a professional exchange program, and another student I met in Ukraine visited and stayed with me for a week. As a result of these exchanges I have become very close to a number of Ukrainian families, and I am in regular contact with them through e-mail and Facebook.
Until the political crisis in Ukraine began in February 2014, I had not thought much about freedom. Now I follow the news each day and hope that the growing violence and political infighting will not split Ukraine into two separate countries. When Russia invaded and occupied Ukraine's Crimean Peninsula, I felt I had to stand up for my friends. I went to the Russian embassy in Washington, D.C. with a Ukrainian friend who lives here in Arlington to protest this illegal occupation. My friend's mother, a Crimean Tatar, spoke at the protest about how Crimeans just want to live in peace in Ukraine. We shouted slogans and carried banners showing our support for Ukraine, and it was an emotional day for all of us. Ironically, someone took a photograph of me and others at this event and cropped out the words on our banners. Russian media published this photo with a caption saying that it showed Americans protesting in support of Russia! I learned that day how easily freedom could be taken away and how history could be distorted and falsified by the power of propaganda.
A boy from Ivano-Frankisk was killed in the rioting in Kiev following the Crimean invasion. I did not know him personally but my Ukrainian friends did, and they wept when his body was returned to town. One of my Ukrainian friends said, "Freedom before was just a word for me. Of course, I knew that in our history a lot of people were killed because of their wish to be free. But this winter changed me. I understood that freedom is not just a word, it is a thing that we have to fight all our life for." I could not agree more. Her words moved me almost to tears. We are both so young and yet we already have had to confront the life-and-death implications of the struggle for freedom.
But this was not the first time in my life that I was confronted with death and violence. On September 11, 2001 an airplane flown by terrorists crashed into the Pentagon, just a few kilometers from my house. I was only four years old then, but I remember that terrible day clearly. Most of my teenage friends in Arlington probably also remember this as a day that changed our lives forever. After September 11 my family made plans for what we would do in a future emergency, where we would go, and whom we would contact. We began to stock extra food and water in our home. Many public buildings adopted new security measures to keep unknown persons from entering. Even to this day advertising in our Metrorail subway system warns us to look for unattended bags or luggage that could contain a terrorist bomb.
I do not mean to imply that I live my life in fear. I live the normal life of an American high-school student, and I enjoy a wide range of hobbies and family activities. But I do think those of us who grew up in the post-September 11 era will always have a special appreciation of how precious our freedom is.
In one year I will be eligible to vote in America. Young people need to vote and to understand what they are voting for. Many young people take the right to vote for granted and do not participate in the political process. In the 2012 U.S. presidential election, for example, only 45 percent of our young people aged 18 to 29 voted. I believe that many young people in America do not vote because they are not well informed. Yes, it takes time and effort to learn about the various candidates and their positions on issues that are important to you. Yet when I think about how many people all over the world do not have the freedom to vote—or even the right to know the truth about what their governments are doing—this seems a small price to pay.
In Ukraine, where a quarter of the population is age 24 or younger, the votes of young people are very important. These young people have grown up being Ukrainian, not part of the Soviet Union. The majority of those protesting for months at Maidan Square in Kiev were young people fighting for the future of their country. On May 25, 2014 a special election was held in Ukraine that resulted in the election of businessman Petro Poroshenko as president. He now has the huge task of easing tensions with Russia and convincing pro-Russian separatists in eastern Ukraine not to split the country, while also dealing with many other economic and political problems.
Meanwhile, my Crimean friend's mother has distanced herself from some of her childhood friends because they are Russian sympathizers. She has "unfriended" people on Facebook because of their political views. One of my Ukrainian friends said, "It is hard to be free. If you really want to have freedom you will need to give up a lot of things you like, for some people maybe their job, because people who live in society are rarely free. They depend on other people!" Another Ukrainian friend wrote to me, "You will never know what freedom is until you see it in people's eyes." The struggle for freedom in Ukraine has brought many people together, not just in Ukraine but around the world. When I was protesting outside the Russian Embassy, I met people from many different countries speaking out for Ukraine. The Ukrainians I know are fighting hard to keep their freedom and they deserve our full support against those who are trying to take their freedom away.
Kathryn "Katy" Scruggs is an 11th-grade student at Yorktown High School. She is actively involved in theater and sings with a band. Katy has participated in Arlington Sister City student exchanges in Ivano-Frankisk, Ukraine and Reims, France. She will participate in the Arlington-Aachen high-school exchange in 2014. Germany will be the seventh country Katy has visited.
---
Is Germany a Free Country? (Sebastian T. Skladony)
Americans pride themselves on living in a free country. Not only does the U.S. Constitution protect a long list of personal and political liberties, but even our popular culture allows people to defend their individual choices in lifestyle and personal behavior simply by saying, "It's a free country." Most Americans would assert—rightly or wrongly—that their country has the most freedom of any country in the world, and when we read news stories about violence and oppression in countries like Ukraine, Syria, or North Korea, it only confirms our shared belief in the importance of liberty.
I certainly assumed that America was the most free country in the world when I visited Germany for three weeks in the summer of 2013. I spent two weeks in Aachen as a participant in the Arlington-Aachen high-school exchange, and then another week as a tourist in Berlin and Dresden. One thing I learned from this experience was that the concept of freedom is more complicated than I had realized. Freedom means different things to Germans and Americans, and individuals from both nations are typically surprised (and sometimes outraged) to discover some of the specific things that are permitted—or not permitted—in the other nation.
My belief that America had the most freedom of any nation in the world was based not only on what I had read in school textbooks and seen on television news shows, but also on what I had experienced in my daily life. I was only 16 years old when I visited Germany in 2013, but I had never before had any reason to doubt that America was a "free country." Any limits on what I could do as an American teenager were based more on what my parents allowed me to do than what the law permitted.
Certain political topics, such as a woman's right to have an abortion or the legalization of marijuana, are debated every day in America as questions of freedom. But my visit to Germany made me question the American concept of freedom in a way I had never done before, as I learned of that I did not know existed. Young Germans have the freedom to drink beer at age 16, for example, while in the United States one must be 21 years old to purchase or consume any type of alcohol. I was surprised to see Germans my age consuming alcohol, something American parents and teachers consistently tell teenagers not to do. I had never before questioned American drinking-age laws, which are among the most restrictive in the world. Even more surprising to me was that there is little debate about changing them in the United States. The drinking laws served as a starting point for my new questioning of American liberty. Could American still be a "free country" even if other countries gave their citizens more freedom in this area?
The drinking age was not the only example where Germans appeared to have different freedoms than Americans. One night while I was in Aachen, my German host and I walked down a street where prostitutes openly solicited customers. When I asked my friend how prostitution could be legal in Germany, he smiled and replied, "It's a free country." I laughed—because I realized, for the first time, that it was true. In the United States prostitution is illegal just about everywhere, much to the public's approval. For better or worse, Germany offered its citizens the right to pay for sex. This was a second example of how Germans seemed to be more free than Americans, but it was not the last.
One day my friend's father took us for a ride in his Volkswagen on the Autobahn, and I experienced yet another German freedom we do not have in the United States: the freedom to drive as fast as one wishes on the modern highways. Along the course of our ride, we hit a speed of 200 kilometers per hour—nearly twice the maximum speed limit in America and by far the fastest speed that I had ever experienced in a car. Once again, Germany seemed to provide its citizens more freedom than America.
I was also surprised to learn that German citizens have a legal right to watch live broadcasts of major sporting events like the World Cup, and that schools and employers have to change their schedules to allow this. As a sports fan, I certainly would love to have a legal right to watch the biggest sporting events live, but it is inconceivable that lawmakers—or even the average American citizen—would think of this as a "right."
Presented with these new freedoms, I had no choice but to revise my previous world view and my definition of freedom. Personally, I began to believe that Germany had more freedom than America on each of those issues—drinking, prostitution, the speed limit, and right to watch the World Cup. Rather than conclude that Germany was a freer country, however, I realized that our understanding of freedom is subjective, to a certain extent. I also thought that most Americans would probably still consider America a more free country, despite the different freedoms that Germans have. Many Americans, for instance, would argue that the freedom from prostitution is more important than the freedom to pay for sex. I would think most Germans and Americans regard prostitution more as the exploitation of women than the exercise of an essential "right," but our lawmakers have come up with different ways to deal with this age-old problem. The black-and-white labels "free" and "not free" are opinions, not facts, about which reasonable people can disagree.
In addition, as much as visiting Germany made me believe that Germany was more free in certain areas, it confirmed my belief that America was more free in others. In many American states—including Virginia, the state where I live—young people can begin learning to drive a car at age 15 and six months. Americans can receive their driver's license as early as age 16 and three months, which is almost two years before a German can. When I was in Germany I was a year younger than my host brother, but I was much closer to obtaining my license than he was. Visiting Germany convinced me that the United States was a freer country with respect to driving.
I was also surprised that most stores in Germany are legally required to be closed on Sundays. In the United States, most offices and government buildings are closed on Sundays, but all the stores and shopping malls are open for business. Small-business owners are free to open or close on Sundays (or any other day) as they wish because "it's a free country." I later learned a little about Germany's labor laws, which give workers more legal protections than workers have in the United States. But if you are an employer, you may certainly believe that these laws limit your freedom to run your business as you wish. Again, the "freedom" those laws provide is subject to different interpretations.
Gun laws in American and Germany are also very different. German citizens are not allowed to own firearms or even (according to my German host father) large hunting knives. As many Germans know, gun ownership is legal and common in the United States, and Americans consider the right to bear arms a fundamental right in a "free country." There is an ongoing debate over this issue in the United States, and many Americans do support stricter gun laws, more comprehensive background checks, longer waiting periods, and even the prohibition of certain types of firearms. Nonetheless, even those Americans who want stricter gun laws generally recognize that there are legitimate uses of guns, such as for hunting and self-defense. Few Americans would want our country to adopt gun-control laws as strict as those in Germany. At the same time, I realize that many Germans believe that their laws keep them free from guns and gun violence.
I could add other specific examples where Germans and Americans have different ideas of freedom, but that would only be expressing my personal views. The more important point, I believe, is that most Germans and Americans agree about what freedom means on the most important issues, such as the right to vote, freedom of speech and religion, being free to express one's political opinions, or to choose a profession and a career. On these fundamental rights, Germany and the United States are equally free.The differences that I noticed between Germany and America are more subtle. They are important differences but they do not make one country free and the other unfree. In fact, the most important freedoms were the ones I did not notice at all: the freedoms that Germans and Americans take for granted every day because we both live in free countries.
I came home from my trip to Germany with a new appreciation for my own freedom as an American citizen, but also with a deeper understand of freedom itself. Germany is a free country—and so is the United States. I am glad that, as an American, I can use the phrase "it's a free country" to justify my behavior, but I now know that my German friends can legitimately say this, too.
Sebastian T. Skladony is an 11th-grade student at Yorktown High School. He was born to Slovak-American parents in Bratislava, Slovakia. He plays soccer, basketball, chess, and electric guitar. Sebastian participated in the Arlington-Aachen elementary-school school exchange in 2008 and returned to Aachen in 2013 with the Arlington-Aachen high-school exchange. He will study German at the Humboldt Institute in Munich in July and August 2014.
---
Peace, Love, and Freedom (Patrice Splan)
Due to its redeeming qualities, love has been a central trait of stories throughout history, from ancient myths and fairy tales to more modern films and television shows. Sometimes love has flaws and it fails; other times it conquers all obstacles. Either way, love is always changing and developing, enriching and impacting the lives it touches. Freedom is being able to think what you want, to express what you believe, to criticize and be criticized, to respect and be respected, to love and be loved, and most importantly, to have the chance to experience all of the above. I wonder then why there are limits imposed on such a beautiful and powerful gift as love.
In the United States, same-sex marriages and the legal recognition of homosexual unions are extremely controversial. Some argue that gay marriage jeopardizes religious customs, while others fear it threatens traditional marriage values and ideals of joining "man and wife." I believe it is wrong to limit the freedoms of individuals and to discriminate against people based on who they love. Our society will never be fully free, and will never experience true peace, until everyone has the right to marry whomever they love, and enjoys the same rights and freedoms as everyone else.
The Merriam-Webster dictionary defines freedom as "the absence of necessity, coercion, or constraint in choice or action." All people should be free to live without being limited in their actions. Peace and freedom are two deeply connected issues. People are not peaceful when they feel their independence is threatened or restricted. Excessive freedom can cause people to be reckless, but too little freedom results in oppression. Finding a balance between the two extremes of freedom are key to establishing a world that is peaceful. Over the past few centuries, different cultures around the world have developed in many ways, socially, politically, religiously, and economically. Nations strive to become closer to reaching a free and peaceful state, yet complications still exist. I believe that one of the main obstacles for the United States is the continual debate over the issue of gay marriage and rights.
The freedom to marry whom you love is a matter of human rights. All men and women are created equal. They deserve the right to marry whomever they love, and to have their marriages recognized under the law. No one will be forced to marry within their own gender, and conversely, no one should be denied the right to do so.
Critics argue that heterosexual unions will be threatened by legalization of gay marriage. I disagree. Pope Francis, head of the Catholic Church, has expressed the view that same-sex marriage is not a sin against God. Homosexual individuals are no more or less religious than straight people. If they choose to practice their religion, and to seek God in their lives, they should not be rebuked or reprimanded.
Some say that homosexual couples rob their offspring of the benefits of having mixed gender parents. However, more than 24 million children in the United States live in single-parent households. These children have only one parent of one gender, yet they are no less capable than any other child. The same is true for kids who have same-gender parents. Having parents of the same gender does not mean that the child will be any less prepared for life experiences than the child of two heterosexual parents. Many things affect the development of children, including where they are raised, their schooling, family income, and other factors. Parental gender is not a factor in determining the future of a child. Considering how difficult it is for homosexual couples to have children in the first place (through adoption, artificial insemination, or other means), it is amazing how many gay couples have worked so hard to create loving homes for their children. This is all the more reason for our society to allow these couples to marry and to be recognized as normal families like everyone else.
Traditional marriage ideals and customs are not going to be discarded. Rather than attacking traditional marriage, advocates of same-sex marriage believe that marriage is a good thing—and they want it for same-sex couples, too. They understand that marriage is a union of two people who make a life-long commitment to share all the joys and sorrows of life. They believe that children deserve to be raised in loving homes by parents who truly care for them. All they ask is for the same legal benefits and social recognition that heterosexual couples already enjoy. Peace and freedom will not be fully achieved until these rights, and countless others, are protected and guaranteed for homosexual individuals and couples.
Love redeems humanity. Real love helps us overcome greed, selfishness, jealousy, unkindness, and loneliness. When two people share love, their love brings out the best in each other. Why does the government not allow that? The freedom to be your best self, and discover your true identity through love with a significant other should be available to all people, whatever their sexuality.
Love is intertwined with peace; a world full of love is peaceful and happy. Being granted the freedom to marry whom you love will not affect politics or religion. To continue developing a world of peace and freedom, the right to marriage and other legal rights should be protected and ensured for all people.
Patrice Splan is an 11th-grade student at Washington-Lee High School. She participates in many clubs, plays volleyball, and tutors children in math. Her family has hosted eight Aachen students and she participated in the 2013 Arlington-Aachen high-school exchange. In summer 2014 she will return to Germany for the third time to see her friends in Aachen, and then travel to Munich to visit family members there.

---
"Was bedeutet es für mich, dass ich in Frieden und Freiheit leben kann?" (Käthe-Kollwitz-Schule Aachen)
Einführung
Schülerinnen der Käthe-Kollwitz-Schule Aachen haben ihre Meinung zur Frage "Was bedeutet es für mich, dass ich in Frieden und Freiheit leben kann?" zu Papier gebracht. Diese Schülerinnen schließen ihre zweijährige Ausbildung zur Kinderpflegerin in der nächsten Zeit ab. Mit Frau Doris Kühne, Fachlehrerin für Praxis Sozialpädagogik, besprachen die Schülerinnen die Frage, was ihnen Friede und Freiheit bedeutet. Anlass zur Besprechung des Themas gab unter anderem auch die Entführung von 200 Mädchen im Alter von 12-17 Jahren im Norden von Nigeria. Hier einige der Meinungen der jungen Frauen:
---
Semiha Kather
Frieden bedeutet für mich menschliche Sicherheit: ein menschenwürdiges Leben für alle, ohne Hunger und Not mit Toleranz gegenüber dem Anderen. Frieden bedeutet für mich auch, aus dem Haus rausgehen, wann ich will, ohne Angst zu haben, ob die Sirenen wieder angehen oder die Strassen bombardiert werden….Das bedeutet für mich abends in Ruhe mit meiner Familie den Abend zu geniessen und in Ruhe zu schlafen und nicht von Soldaten und Bomben geweckt zu werden und im eigenen Haus maltretiert zu werden.
---
Melanie Veocovic
Jeder Mensch hat das Recht auf Frieden. Genauso wie als ich miterlebt habe, wo mein Vater mit mir und meinen zwei Geschwistern und meiner Mutter am Ausländeramt stand und darum kämpfte, dass wir nicht abgeschoben werden. Für mich bedeutet Frieden, dass keiner abgeschoben wird.
---
Nadiner Y.
Wir wissen den Frieden gar nicht mehr zu schätzen. Wir kennen inzwischen nur noch unser unbeschwertes Leben. Krieg und Tod wirken unheimlich weit weg. Wir wissen nicht wie gut wir es haben. Frieden ist hier normal, doch leider nicht überall. Oft vergessen wir das.
---
Mandy G.
Wenn ich mir die Frage stelle, was bedeutet das Leben in Freiheit für mich, denke ich zurück an meine Kindheit. Ich war 13 Jahre und wohnte 10 Meter von der niederländischen Grenze weg. Ich konnte diese Grenze täglich mit meiner Familie, Tieren und Freunden überqueren und das ohne Grenzkontrollen. Ich hatte ein Pferd, dessen Name Freedom war. Das bedeutete auf Deutsch Freiheit und bei den Ausritten mit ihm hatte ich das unglaubliche Gefühl der Freiheit. Von diesem wundervollen Gefühl möchte ich gerne etwas erzählen.
Freedom und ich waren jeden Tag in den Wäldern in den Niederlanden unterwegs. Wir sind über Bäume, Steine und Stöcke gesprungen, über Acker, Feld und Sandwege gestürmt. Der volle Galopp war immer der schönste Traum. Ich liess einfach die Zügel los und streckte die Hände in die Luft, in den Himmel hinauf. Dabei zog die Luft durch meinen ganzen Körper. Freedom nahm mich auf eine ganz besondere Reise mit. Träume erwachten und das Gefühl der Freiheit war in diesem Augenblick ganz nah gegeben. Kummer, Ängste, Sorgen, Traurigkeit und Gedanken waren verflogen. Dieses Gefühl ist nicht zu beschreiben: Du lässt einfach von Allem los und fängst an zu träumen. Danach fühlte ich mich immer jeden Tag wie neu geboren. An anderen Tagen Pflegte ich Freedom auf der Wiese oder schlief auf seinem Rücken ein. Dieser blieb stehen wie angewurzelt und gab auf mich Acht. Lief hinter mir her ohne Halt, frei wie ein Vogel auf offenem Land. Das war eine Zeit von Vertrauen, grenzenlosem und blindem Vertrauen. Jetzt bin ich auch wieder einmal in meine Zeit zurückgereist. Es hat mich gefreut, Euch meinen Blick auf das Leben in Frieden und Freiheit zu erzählen.
---
Jennifer B.
Für mich gibt es keinen Frieden, weil es Menschen gibt, die Kriege führen. Kriege, bei denen Männer und Frauen sterben. Als ob das nicht schlimm genug wäre. Auch Kinder werden getötet. Die Menschen leben in ständiger Angst und haben Hunger. Die Menschen respektieren sich nicht untereinander. Sie meiden sich, weil sie eine andere Hautfarbe haben oder eine andere Meinung vertreten. Für mich bedeutet Frieden, wenn alle Menschen ohne Angst und Kriege und ohne Hunger leben dürfen. Alle Menschen sollen soviel besitzen, dass sie jeden Tag satt werden. Ich habe alles, was ich brauche, doch um in Frieden zu leben, muss ich erst wissen, dass es allen Menschen gut geht. Wir müssen dankbar sein für alles, was wir haben, und teilen. Und wir dürfen uns das eigene Leben untereinander nicht schwer machen.
---
Nelike Bayraz
Frieden ist für mich, wenn keine reale Gefahr von außen mein Leben ständig gefährdet. In Frieden zu leben, bedeutet für mich nicht permanent Angst zu haben.
---
Anonymer Beitrag
Frieden ist eine Angelegenheit, die jeden etwas angeht, ganz unabhängig davon, ob jemand im Osten, Westen, Süden oder Norden lebt. Unabhängig davon, ob man Reich oder arm ist, jeder muss sich ernsthaft mit der Frage des Friedens beschäftigen. Wir alle sind Menschen und wir haben daher alle dasselbe Anliegen: Glücklich zu sein und ein glückliches Leben zu führen.. Wir alle verdienen es, ein glückliches Leben zu führen.
---
Anonymer Beitrag
Frieden bedeutet für mich, mich sicher fühlen zu können, meine Familie um mich haben zu können und mich auf meine Rechte berufen zu können.
Es ist für mich ein Privileg hier (in meinem Leben) leben zu können. Mit meiner Geburt ist "mein Leben" etwas, was mir in die Wiege gelegt wurde und ich habe weder etwas dafür getan noch in irgendeiner Weise darauf Einfluss gehabt. Wenn ich an die armen Mädchen denke, die an die Soldaten verkauft wurden, bin ich geschockt, was in der Welt alles so passiert.
---
---
70 Jahre Frieden und Freiheit in Aachen
(Kinder des Zentrums für Kinder-, Jugend und Familienhilfe Maria im Tann, Aachen)
Für viele Aachener Kinder und Jugendliche in Maria im Tann ist das eine ziemliche Selbstverständlichkeit. Das drängt sich zumindest auf den ersten Blick als Eindruck auf, wenn man die Jugendlichen auf diese Begriffe anspricht. Frieden und Freiheit wird dabei auf die politische Dimension von Nicht-Krieg und Nicht-Unterdrückung bezogen. Krieg und Unterdrückung kennen sie ja glücklicherweise aus eigenem Erleben überhaupt nicht. Natürlich wissen sie, dass es genügend andere Länder der Welt gibt, in denen Krieg und Unterdrückung herrschen. Das finden sie schlimm, aber wirklich vorstellbar ist das Leben in solchen Regionen für sie nicht.
Aber dieses Thema ist für die Kinder und Jugendlichen, deren Eltern und Familien in Aachen und der Region leben, inzwischen auch deutlich näher gerückt:
Seit etwa drei Jahren leben in unserer Heimatstadt Aachen eine große Zahl von unbegleiteten, minderjährigen Flüchtlingen. Sie sind in unserem Heim untergebracht und werden dort betreut. Für diese Jugendlichen ist ja gerade die bisherige Lebenssituation durch Folter und Krieg, Ermordung von Familienmitgliedern, Ausbeutung, religiöse Verfolgung und nicht zuletzt lebensbedrohende Armut so unerträglich geworden, dass sie sich auf die Flucht in ein hoffentlich besseres Leben gemacht haben. Diese minderjährigen Flüchtlinge, die manchmal mehr als 1 Jahr allein auf der Flucht waren, berichten uns u. a.:
In unserem Land, Bangladesch, gibt es zwar keinen Krieg. Aber die Menschen sind in Bangladesch nicht zufrieden. Es gibt auch viele Unfälle, z.B. schlimme Schiffsunglücke, schreckliche Verkehrsunfälle, und die schlechten Arbeitsbedingungen, dass so viele Leute im Feuer sterben.
In Afrika ist immer Krieg, kein Frieden und Freiheit, also Afrika ist nicht schön.
Es gibt in Afghanistan viel Krieg. In Afghanistan gibt es viel Taliban. Jungen können nicht in die Schulen gehen.
In Guinea ist immer Krieg, kein Frieden. Guinea ist nicht schön.
In Eritrea gibt es viele Probleme, keine Schule; ständig gibt es Krieg, und man wird geschlagen.
Deutschland ist sehr schön. Ich habe immer Frieden und Freiheit. In Deutschland ist sehr gut. Alle Jungen können in die Schule gehen.
Diese Aussagen spiegeln sehr einfach, aber gleichzeitig sehr nachdrücklich, was sie bewegt. Wenn man dann weiß, dass einer der Jugendlichen die Enthauptung seines Vaters durch die Taliban miterleben musste, ein anderer auf der Flucht seinen Bruder nicht vor dem Ertrinken retten konnte, und es so viele Gräuelsituationen mehr gibt, dann weiß man, dass für diese zugewanderten Jugendlichen das Leben in Frieden und Freiheit alles andere als selbstverständlich ist. Mit unglaublich großen Hoffnungen und Erwartungen starten sie hier in Deutschland in eine friedlichere und gerechtere Zukunft. Sie haben alle Traumatisierungen vor und während der Flucht erleiden müssen und sind voller Traurigkeit darüber, dass sie ihre Familien – zumindest für lange Zeit – verloren haben. Wer ihnen ernsthaft begegnet, weiß, dass er alles daran setzen muss, um ihre Hoffnungen nicht zu zerstören. Dankbarkeit für 70 Jahre Frieden und Freiheit in Aachen verpflichten uns auch im Engagement für diese jungen Flüchtlinge, die heute nach Aachen kommen. Nicht zuletzt die heutigen Erkenntnisse über die Spätfolgen der Traumatisierung der damaligen Jugendlichen durch die schrecklichen Erlebnisse während des zweiten Weltkrieges verpflichten uns, unseren jugendlichen Flüchtlingen alle Hilfe zu geben, damit sie ihr Leben neu, gesünder und zukunftsorientierter ordnen können.
Über die Begegnungen mit den unbegleiteten minderjährigen Flüchtlingen hinaus ist für die Kinder und Jugendlichen, deren Eltern und Familien in Aachen und der Region leben, aber die Erfahrung von Un-Friede und Un-Freiheit oftmals ein sehr persönliches und zudem auch nicht selten sehr verletzendes Erlebnis. Nicht wirklich wichtig und gesehen zu sein, nicht die gleichen Chancen und Möglichkeiten wie die Klassenkameraden zu haben, sich in seinen Rechten und seiner Würde nicht wirklich ernstgenommen zu fühlen, unter körperlicher oder gar sexueller Gewalt leiden zu müssen, das sind einige der Lebensbedingungen, die Kinder und Jugendliche belasten und die sie nicht wirklich an Friede und Freiheit glauben lassen. Die dazu gehörenden Wünsche drücken Kinder einer unserer Wohngruppen so aus: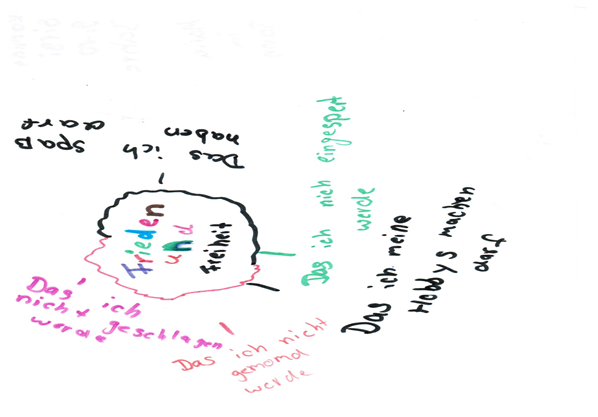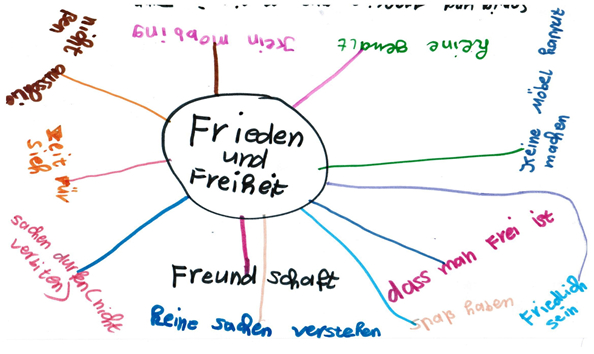 Und einen weiteren Beitrag möchte ich hier anfügen. Es ist der Text einer jungen, 19-jährigen Frau, Alexandra, die in einer unserer Jugendgruppen ein Freiwilliges Soziales Jahr mit hohem Engagement absolviert:
"Freiheit bedeutet für mich, dass ich in meinem Land frei entscheiden kann wie mein Leben aussehen soll. Ich kann mir aussuchen welchen Beruf ich erlernen möchte und das gefällt mir sehr gut, denn ich finde, das muss jedem frei überlassen werden, damit man sich später in seinem Leben glücklich fühlt und gerne seinen Beruf ausübt. Auch wenn meine Eltern vieles in meinem Leben bestimmt haben, hatten sie aber auch die freie Wahl, was sie tun; es gibt niemanden der ihnen vorgeschrieben hat, wie sie mich behandeln sollen oder auf welche Schule ich mal gehen soll. Sie haben mir, als ich noch zu jung dafür war die Verantwortung dafür abgenommen aber ich habe mich trotzdem frei gefühlt und je älter ich wurde, desto mehr durfte ich mitentscheiden und das finde ich gut so. Als ich mich letztes Jahr dazu entschied ein freiwilliges soziales Jahr zu machen, durfte ich das selber entscheiden und habe mich dadurch bestätigt gefühlt, dass ich meine Freiheit ausleben kann. Genauso sieht es jetzt mit der Entscheidung für eine Ausbildungsstelle aus, es gibt niemanden, der mich daran hindert eine Ausbildung meiner Wahl zu beginnen und das bedeutet für mich ein großes Stück Freiheit. Dadurch kann ich mich erwachsener fühlen und die Verantwortung für mich selber übernehmen und mein Leben in die Hand nehmen, egal, ob es meinem Umfeld gefällt oder nicht. Es ist meine freie Entscheidung.
Für mich ist auch die Meinungsfreiheit ein wichtiger Aspekt, denn ich kann immer und überall meine eigene Meinung sagen und vertreten. Es gibt niemanden, der mir vorschreibt was ich sagen darf und was nicht. Es kann zwar Kritik an meiner Meinung geübt werden aber das ist nicht so schlimm, Hauptsache ich darf sie äußern ohne Angst zu haben, dafür verurteilt zu werden oder ähnliches. Für mich ist das ganz normal aber es gibt auch viele Orte auf der Welt wo das leider nicht so ist und das finde ich schade. Es sollte für jeden Menschen auf der Welt diese Freiheit da sein seine eigene Meinung offen zu äußern. Ich könnte mir nicht vorstellen, wie es wäre wenn man mir das verbieten würde. Ich würde mich in meiner Persönlichkeit eingeschränkt fühlen.
Freiheit bedeutet für mich auch, dass ich meine Kreativität ausleben kann. Damit ist gemeint, dass ich mir meine Kleidung selber aussuche und zusammenstelle oder mir eine Frisur frei auswähle. Es ist meine eigene Entscheidung und niemand schreibt mir das mehr vor. Früher wurde das natürlich von meinen Eltern bestimmt aber heute bin ich alt genug um das selber zu entscheiden und abzuwägen was am besten ist und zu mir passt. Ich kann auch mein Zimmer oder später eine eigene Wohnung nach meinen Wünschen gestalten. Auch mein Hobby suche ich mir selber aus, weil ich weiß was mir am meisten gefällt und Spaß macht. In meiner Tanzgruppe kann ich meine Kreativität sehr gut ausleben und ich finde es gut, dass ich mich dafür selber entscheiden konnte.
Ich lebe in Deutschland und hier gibt es keinen Krieg, ich bin also nicht dadurch in meinen Leben eingeschränkt wie viele Menschen auf der Welt es sind. Ich kann mich frei entfalten und entwickeln.
Mir wurden zwar Werte und Normen durch meine Eltern , die Schule und mein soziales Umfeld vermittelt aber was ich davon wirklich gut finde, konnte ich frei entscheiden und mir meine eigene Meinung dazu bilden. Es wird auch in meiner Zukunft noch viele Entscheidungen geben , die ich selber treffe , zum Beispiel in welche Stadt ich ziehen möchte oder welche Wohnung mir am besten gefällt , wen ich heiraten werde und wie viele Kinder ich haben möchte.
Ich merke oft gar nicht, was für ein Geschenk es ist, frei zu sein und in Freiheit leben zu können. Für mich ist das alles selbstverständlich und ich könnte mir gar nicht vorstellen, dass es auch anders sein könnte. Hier in Deutschland sagt der Staat einem nicht, was man darf und was nicht , es ist unserer eigene freie Entscheidung und ich bin froh , dass ich nicht in der Zeit aufgewachsen bin , in der das noch ganz anders ausgesehen hat , wo Krieg geherrscht hat und wo die Menschen diese Freiheiten , die ich genieße nur in ihren Träumen kannten. Auch wenn ich nicht weiß wie es sich anfühlt nicht in Freiheit zu leben, kann ich mich glücklich schätzen, dass ich hier lebe und ein freier Mensch bin."
Solange junge Menschen wie Alexandra so über Freiheit und Frieden denken, wenn sie so ihr Leben gestalten und dabei ein so hohes Maß an Engagement und Verantwortung für ihre Mitmenschen entwickeln, und wenn sie diese Gedanken an die nachfolgenden Kinder und Jugendlichen so authentisch weitergeben, dann sind wir – davon bin ich überzeugt – auf einem guten Weg, um auch in weiteren 70 Jahren immer etwas mehr an Frieden und Freiheit zu entwickeln.
Stefan Küpper , Leiter Maria im Tann