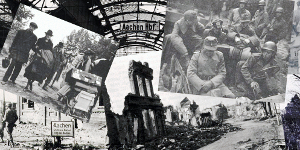 Dr. René Rohrkamp:
The "Battle of Aachen". A Reconstruction of Military Operations in September/October 1944
The collective remembrance of the events of September and October 1944 has been superimposed by myths for a long time. The so-called Battle of Aachen was primarily a military operation. The paper focusses on the proceedings and contexts of its different phases – the German troops flooding back across the German frontier, the brief moment in which a peaceful surrender of the city would have been possible, the pause by the Allies and the nearly six-week bloody battles for the city – which will be analyzed on the basis of primarily German sources.
Read the whole article (in German) here… [pdf]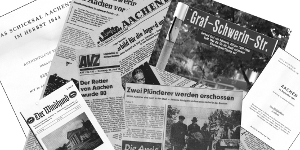 Dr. Peter M. Quadflieg:
The "Battle of Aachen" in the Memory of the City: From the "Capitulation" to the "Liberation" (1944-2014)
During the past 70 years the end of the Second World War has been reinterpreted several times in the German consciousness. In the light of misery and devastation, the 8th of May 1945 has been considered as day of unconditional surrender and total defeat. It was even regarded as symbol of "finis germaniae" after the decline of Hitler's Thousand-Year Reich. As of 1950 the 8th of May was declared the "Day of the liberation of the German people from Hitler's fascism" in the East German dictatorship, where it has been celebrated in a state ceremony until 1966. West Germans, however, continued to have problems with the historical date. It was the famous speech by Federal President Richard von Weizsäcker in 1985 and the subsequent public discourse that led to a reinterpretation of the date as day of the liberation from war and Nazi dictatorship.
In parallel with these patterns a regionally shaped culture of remembrance developed in Aachen. The surrender of the city on October 21st, 1944 has been reframed as an act of liberation. On the basis of local-historic sources, this paper traces the perception of the end of war in Aachen.

Read the whole article (in German) here… [pdf]